8 Amazing Small Space Resources to Bookmark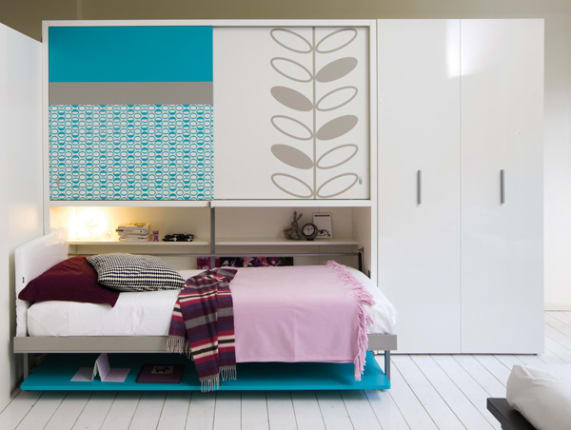 For those who live in studios, one bedrooms, and tiny homes, inspiration can be hard to come by. Stylish built-ins, wall-mounted systems, and multi-purpose furnishings are the exception rather than the norm, but there are some remarkable websites that might not be the biggest, but will reward you with great ideas and beautiful photos once you find them. These 8 companies aren't cheap (in fact, most of them gravitate towards the high end of the pricing spectrum) but they're worth checking out for ideas and inspiration.
Bonbon Compact Living
Located in London, BonBon carries Italian Clie wall-mounted and murphy beds, some of which double as sofas, office desks, and storage units. Their website also has lots of good ideas for color-blocking to section off different zones in a studio.
Resource Furniture
Like BonBon, this New York store carries space-saving designs from Clie and other manufacturers, including transforming beds, sofas, and shelving systems. Surf their site for beautiful photos of bedrooms, home offices, and living rooms outfitted with concealed storage.
Kerf Design, Inc.
Based in Seattle, Kerf creates modern cabinets in 16 different colors of laminate applied in gridded, Modrian-esque patterns. They're good to check out for wall-to-wall shelving inspiration in hallways, living rooms, kitchens, and home offices.
LAGO
Lago is a young company based in Milan (no US distribution yet). Storage is their strong point — they emphasize the modular nature of their designs, which conceal everything behind a series of bright and shiny doors.
Muunto
Crafted by a Helsinki-based company, Muunto's shelves and cabinets mount to an MDF panel fitted with aluminum grooves. The cabinets come in 13 colors and can be arranged to create custom storage solutions. Unfortunately, they don't yet have a US distributor.
Vitsœ
Designed by Dieter Rams in the 1960s, Vitsoe shelves are a classic modern small space solution. Simple and modular, they mount to the wall but are strong enough to hold books and heavy objects. Check out their online gallery for cool space-saving like under-the-stairs home offices.
Atlas Industries
The Atlas AS4 shelving system is another wall-mounted design that works well in small spaces. Crafted from wood, it's richly textured and their site includes ideas for small space media centers, workspaces, and libraries.
Molteni&C Dada Unifor
Although they don't exactly specialize in small spaces, this Italian company is very strong on wall-to-wall shelving, and their gallery of high-end custom designs is appropriate inspiration for anyone considering built in shelves.