10 Brand-Name Designer Gifts for Less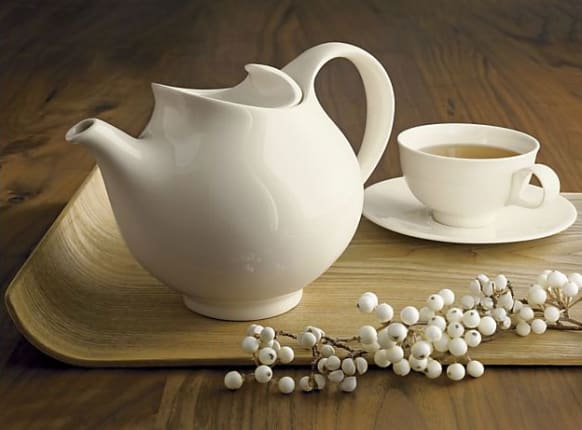 In case you've got a friend on your gift list who loves luxury, here are 10 places to find designer items at budget prices. From Jonathan Adler vases at HSN to Angela Adams bedding at Bed Bath and Beyond, these gift ideas are accessible and affordable.
Hella Jongerius at IKEA
Dutch designer Hella Jongerius creates furniture and ceramics for high-end lines such as Vitra and Droog, but she's also the mind behind IKEA's popular PS Jonsberg Vase ($40). Each style of vase in the collection requires a different ceramic production process.
Naoto Fukasawa at MUJI
Japanese chain store MUJI has collaborated with renowned minimalist designer Naoto Fukasawa on a number of objects, including a wall-mounted CD player, a bed made from ash wood, and this LED Torch Light ($38.50).
Eva Zeisel at Crate & Barrel
One of the most prolific and celebrated 20th century potters, Eva Zeisel's work is both classic and contemporary. At 103, she's still working, and her Classic Century Collection at Crate and Barrel remains a best seller. This iconic Teapot sells for $60.
Thomas O'Brien at Target
Timeless, classic, and comfortable are a few of the words thrown around to describe Thomas O'Brien's various home collections. His most affordable one is available at Target, where you can find this Hand-Painted Dinnerware Collection (starting at $14).
Angela Adams at Bed, Bath, and Beyond
Her colorful rugs are artwork in and of themselves, and her handmade collections can cost a small fortune. Not so with her collections for Bed, Bath, and Beyond, where you can find this Angela Adams Modern Comfort Sheet Set for $60 - $100.
Alexander Girard at FLOR
This iconic mid-century designer was an early adopter of the "happy chic" look. Girard's fusion of folk art and modernist simplicity is instantly recognizable in FLOR's La Fonda Del Sol Rug. Available in sets of carpet tiles, it's priced at $160 for a 3' x 5' rug.
Ralph Lauren at Macy's
He's probably the most famous name on this list, and he's synonymous with the preppy, classic Americana look. He has collections at several stores, but one of the best is his line for Macy's, which includes this Cable Knit Throw, on sale for $50 (reg. $100).
Eileen Fisher at Garnet Hill
Garnet Hill works with several higher-end designers, and Eileen Fisher is one of the best. Her towels, sheets, pillows, and quilts are of high quality, and the aesthetic is simple and modern. Shown: Organic Spa Towels, $18 - $68.
Pratt Collection at West Elm
West Elm has been collaborating with young designers on a few of their new collections, and their partnership with the Pratt Institute has produced some very cool home office furniture. Shown: Pratt Chair, on sale for $120 (reg. $150).
Jonathan Adler at HSN
The reigning king of anti-depressant style, Jonathan Adler has bright, colorful collections in several stores, including — of all places — the Home Shopping Network. Shown: Striped Bud Vases at HSN, $50.
Photo: Eva Zeisel Classic Century Collection at Crate and Barrel