10 Green Designers to Watch in 2011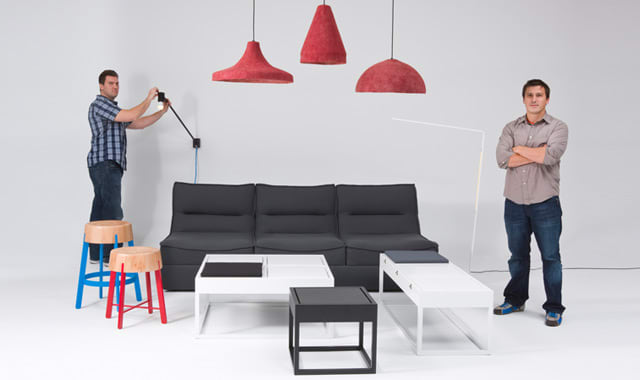 Green design may have found its way into the mainstream, but the people on the fringes are the ones who will continue to push it forward. Here are 10 people whose work represents innovative ways to think about sustainability, form, and function in 2011.
Joseph and John Ribic of Objeti
Run by two brothers based in Cleveland, Objeti makes stools, seating, and lighting here in the US. As winners of ICFF's New Designer Award, they've been getting tons of coverage in Metropolis, Dwell, and other design mags.
Brandon Phillips of Miles and May
After breaking from SMC Furnishings and rebranding his work under the name Miles and May, designer Brandon Phillips has a new collection of gorgeous handmade wood furniture from cast-off, scrag, and remnant hardwoods.
Natalie Chanin of Alabama Chanin
She's been hot for a while (with write-ups in Vogue, the New York Times, and work in the Cooper-Hewitt), but this Alabama-based textile designer's fabrics and clothing collections keep getting better.
Jeremy Pickett of Pickett Furniture
Jeremy's work appeared in Apartment Therapy's 2010 Design Showcase and was picked up by a major magazine. Keep an eye out in the coming months, because his LED/bamboo veneer lights will be showing up soon in mags and blogs.
Asher Dunn of Studio Dunn
After Apartment Therapy profiled his work, this Rhode Island designer won ICFF's 2010 New Designer Award. His collection of sustainably sourced wood furniture got picked up by Elle Decor, Dwell, and Metropolis, and we expect to see more of it in 2011.
Joe Mansfield and Ken Tomita of Grove
This Portland-based pair designed a bamboo iPhone case that recently blew up. Even better, the packaging — made from remnant bamboo left over from the carving process — can be used as a picture frame after un-boxing.
John Berg of Berg Design Architects
A LEED Accredited architect, John Berg was a finalist in our 2010 Design Showcase. His Quandry Table earned high marks from readers and judges (David Netto praised its "guts and simplicity"), and we hope to see more in 2011.
Rob Forbes of Public Bikes
The former CEO of DWR has pulled off an amazing second act. His new company, Public Bikes, makes cool, well-designed bikes for "more livable cities." Lately, Public has been showing up in Fast Company, the Wall Street Journal, and other major mags.
Peter Sid of Bottles of Hope
Peter was the Reader's Choice Winner of Apartment Therapy's 2010 Design Showcase. His memorable chandelier — made from LEDs, recycled medical vials, electrical wire, and aluminum — indicated a strong talent that we're excited to see more of in 2011.
Laurent Charlet of Charlet Design
This Brooklyn-based designer/architect works with simple forms and a limited palette of sustainably sourced wood. We expect his collection of slick laptop desks, media centers, and storage pieces to find a wider audience next year.
Top Photo: Joseph and John Ribic of Objeti