10 Planters & Container Gardens for Beginners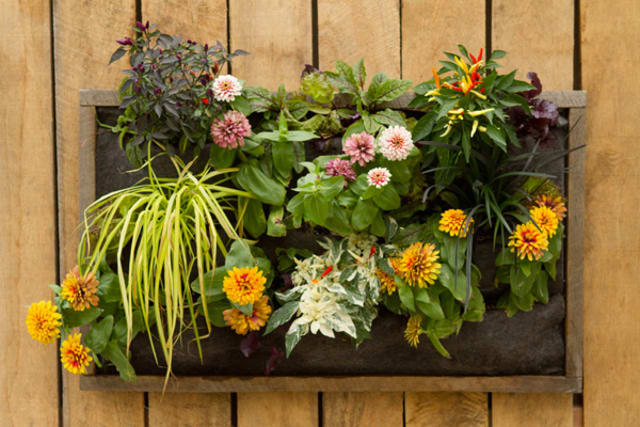 If you're a novice gardener and you're not yet sure of your cultivation skills, a kit can be a good way to get started. Look for all-in-one container gardens that come with planters, soil, and instructions, or shop around and ask your local garden supply store for recommendations. Here are 10 unique planters and kits we like.
Eserro
The Garden365 Mobile Planter is a large polyethylene tub designed to be wheeled from sunroom to outdoor patio, depending on the season. Available in three colors, it's made from a powder-coated shell on casters and sells through Amazon.com for $225.
Simple Garden by Fertile Earth
Compact, lightweight, and designed to yield a mini-garden, this $25 kit comes with a container, soil and seeds, foolproof instructions for growing, and a lid that you can use to create a damp, protected environment for the seeds while they're germinating.
Food Map Containers
Designed for home herb and food gardens, this elevated container has a built-in drainage system, and the rubber casters allow plants to be easily moved to a sunny spot. The Food Map comes in two heights: low ($205) and high ($215).
Gardener's Supply Company
This online catalog has a huge inventory of plants and containers for indoor or outdoor gardens. Their organic tomato success kit comes with a self-watering terra cotta planter (great if you're a beginner) as well as a tomato cage and soil for $65.
Paxton Gate
Based in San Francisco (and offering online shopping), this store is full of cool container garden items, like the Hanging Garden DIY Kit ($100), which comes with a wooden frame, metal grill, soil, moss, planting baskets, and instructions.
Terrain
This home/garden spinoff of Anthropologie has plenty of containers for the urban indoor gardener. Some of the most exciting are the Vertical Gardens (shown here, $268). Made from felt with wood or metal frames, they can be mounted to the wall indoors or outside.
Sprout Home
With stores in New York and Chicago and an online shop, they offer a nice selection of growing kits. They've also recently expanded, adding a full-service Floral and Garden Design Studio next door to their Brooklyn home store.
Uncommon Goods
This gift catalog features more than a few garden kits, including hanging planters, seedlings, and even tree-to-be packages. Their Bonsai Forest ($50) is "a grove of miniature trees that you foster along, from seedling to sprout to bonsai forest."
Jayson Home & Garden
This Chicago-based and online store sells pre-planted containers as well as separate pots and plants. This early edibles box is $130 including delivery, and includes parsley, lettuce, red mustard, and allyssum—it would do well in mild, sunny weather.
Flora Grubb
This San Francisco garden store has a webshop with some really gorgeous garden kits, including terrarriums, vertical panels, hanging planters, and rock pots. This is their $80 Vertical Garden DIY Panel, a "20"x20" tray containing 45 slanted planting cells."
Apartment Therapy supports our readers with carefully chosen product recommendations to improve life at home. You support us through our independently chosen links, many of which earn us a commission.