10 New Independent Artisans & Designers to Watch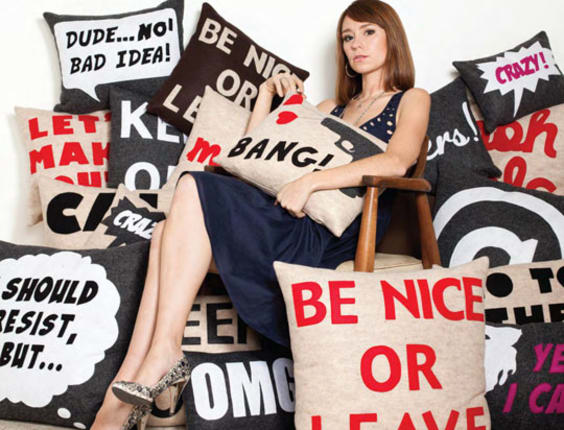 This is a busy time of year, when designers are releasing new spring collections and trade show season is in full swing. While making the rounds, we've met several new independent designers and artisans whose work is fresh, exciting, and made by hand and/or using sustainable methods of production.
Alexandra Ferguson
Maxwell posted her unique pillows as a Daily Find. He says, "All of her pillows are made out of recycled material and all the tag lines are fresher than the tired out ones you always see. This is totally personal."
Peter Vogel of Nutmegger Workshop
Vgoel's Portland-based studio reproduces old signs, hand-painted and crafted from wood with an aged finish. He'll even even let you commission your own sign, whether it's from a photo you snapped on your travels or a slogan of your own invention.
Shannon South of ReMade USA
Shannon South makes bags, ottomans, throw pillows, and even iPhone cases — all from recycled leather. Materials are sourced in thrift shops and through direct donations to her studio. Prices range from $15 for an iPhone case to $275 for an ottoman.
Kerry Larkin of Comma Workshop
Comma Workshop founder Kerry Larkin studied industrial design and architecture before she started making these unique quilts. Each Comma Workshop quilt has a story sewn directly into it, and prices start at $230.
Christine Schmidt of Yellow Owl Workshop
Graphic design and stationery site Yellow Owl has been around for a while, but founder Christine Schmidt just published a new book that outlines her hand-printing techniques and provides step-by-step projects.
The Davis Family of Portola Paints
This Los Angeles family includes contractor Jim Davis and his two sons, Casey and Jamie. They make zero-VOC paints in small batches, and every color is mixed-to-order in their West Hollywood store.
Debra Folz
Artist and furniture maker Debra Folz has a studio in Boston's South End neighborhood, where she creates uncommon objects that deal with the passage of time. Her "Whole Story" photo albums are designed to perch on a coffee table or shelf like sculpture.
Bev Hisey
Canadian designer Bev Hisey just launched a new series of textiles at the 2011 Toronto Interior Design Show. Her carpets are graphic and colorful, and she's a member of Goodweave, the organization dedicated to ending child labor in the rug industry.
Caroline Gomez of Mouta
Installation artist, designer, and professor Caroline Gomez owns and operates a small shop out of her studio in France. Many of the objects she sells are limited editions, produced in small but beautifully crafted quantities.
Yuka Morihata & Kaz Morihata
This Japanese group has been around for a while, but their towels only recently came to the US. Rikumo's towels are super-soft and made from 100 percent hand-picked 'Shankar 6' pesticide-free cotton threads.