10 Sources for Kitchen Must-Haves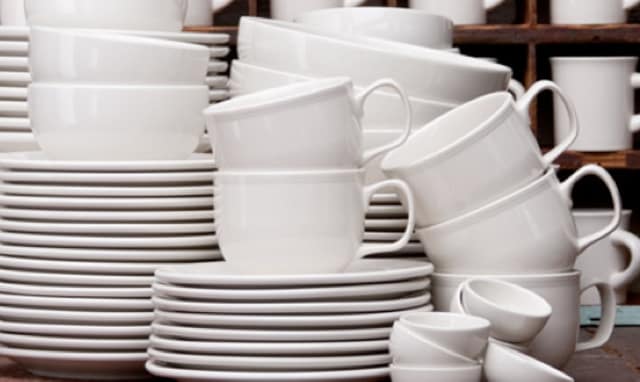 From decent storage containers to dinnerware for everyday use, we are always on the hunt for certain essentials as we stock our kitchen. For some ideas on where to find basics for food prep and entertaining, check out these ten resources from our Marketplace.
CB2
With expanding stores across the country and a fairly easy-to-use website, this is an accessible source for modern dishes, flatware, and glassware. They also carry table linens and and pretty much anything you need for the bar.
Restaurant Supply Stores
They're not always cheap, but they tend to stock high-quality items for less than you'd pay at a regular retail shop. Look for pots, pans, basic tools, cutlery and dishes. For a pared down guide to restaurant supply stores, click here. (Shown left are Cuisinart Pots from the Broadway Panhandler.)
Cookin' San Francisco
This San Francisco shop is one example of a place where you can find vintage cast iron cookware. (They don't have a website; you have to shop in person to buy.) Advantages of shopping vintage include lower prices and the chance to find discontinued colors and product lines. You can also check flea markets for vintage cast iron and silverware.
Lodge
They're a good source for inexpensive, durable cast iron skillets for as little as $20 or $30. As long as you take care of your skillet, seasoning and cleaning it properly, it can last a lifetime. Shop for Lodge skillets at their website or at places like Target, Wal-Mart, and camping supply stores.
Cookware & More
This online store has an All-Clad Outlet, where they offer discounts year-round and regular sales. They also carry marked-down irregulars from brands like Swiss Diamond and Wüsthof.
Crate and Barrel Outlet
Crate & Barrel has an online outlet (and a brick-and-mortar outlet in Chicago), where they stock discounted kitchenwares. Storage pieces are always in stock.
IKEA
It's a little bit of a no-brainer, but IKEA remains a go-to source for inexpensive kitchen organizers, like the popular Celeber and Grundtal Series. For a starter guide to the best kitchen products at IKEA, see this post.
Target
They're not a secret source by any means, but they do stock some good lines at reasonable prices. Brand names include Cuisinart cookware, Riedel wine glasses, SimpleHuman dish racks, and plenty of storage options, including this Rubbermaid 34-piece Set for $19.
Specialty Bottle
If you're looking for streamlined storage, nothing's simpler than a big set of matching glass jars. This online shop sells jars, tins, and canisters in bulk, so that you can buy a case at a discounted price.
Image: Fishs Eddy