10 Sources for Making Bath Time More Fun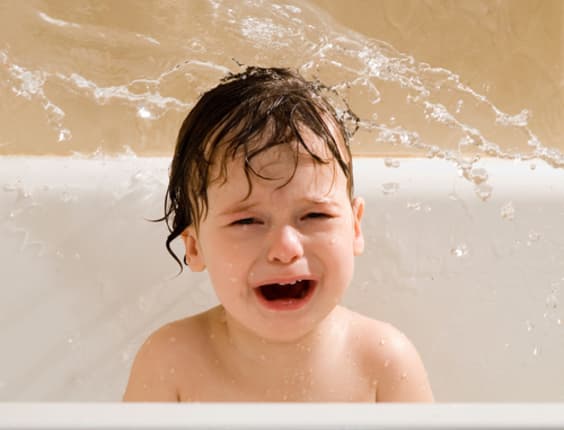 Let's face it, bath time isn't always a day at the beach. Luckily our Marketplace is full of all kinds of resources for finding little things to help make the experience a bit more enjoyable for kids and grownups. Check out these ten great shops after the jump.
Modern Nursery
San Francisco mom Trish Meyler combines her internet background with her love of modern design in this adorable online shop that carries all kinds of essentials for the modern nursery. Pictured here: dwellstudio Gio Aqua Hooded Towel. $52
Skip Hop
With a nice selection of colorful goods for the nursery, playtime and mealtime, Skip Hop also has some recently added bath time essentials that are both playful and functional. Shown here: Foaming Soap Dispenser, $24
Arte Bebe
Featuring a stylish collection of baby gear from around the globe, Arte Bebe prides itself on their quality and unique products. They have a nice selection of hooded towels and bath mitts, like the Little Twig Lady Bug for scrubbing fun! $7
Half Pint Citizens
This online store is full of all kinds of solutions for helping children adjust to what can sometimes be difficult situations, like bath time or using the potty. These Floating Ducks make for a fun distraction from getting clean as kids try to balance the baby duck on the mother's back. $14
Spunky Sprout
Valuing health as much as much as functionality and fun, this online retailer stocks a nice selection of specialty care products designed specifically for a baby's sensitive skin. From bath soaks to sunscreen, products range from $14-30.
Soft Landing
In the never ending sea of baby products on the market, this shop helps take the headache out of finding healthier alternatives. Their entire inventory is confirmed with manufacturers to be free of BPA, PVC, phthalates, melamine, cadmium, lead and flame retardants. Shown here: Creatures Bath Cup Set by Boon. $13.50
Giggle
Hey, bath time can be fun for gownups too! But we know it can certainly be hard on the knees. This baby shop, with several locations around the U.S., has you covered with the Tub Kneeling Pad. $15
Hevea
From this supplier of sustainable pacifiers and teethers comes these classic and adorable Pond Bath Toys. Made from 100% natural rubber latex, these bath toys contain no PVC, no BPA, no phthalates and no artificial colors. $29.99
Hadley Baby
With their simplified and well-edited list of baby stuff, Hadley Baby helps relieve the anxiety of searching through the sometimes overwhelming choices presented at the "big box" baby stores. Shown here: Junior Chubby Skipper Yacht. $29.99
Maukilo
Because sometimes you just need something simple and inexpensive to add some fun to the bathtub, check out this shop for their wide selection of low-cost toys. Shown here: Sea Horse Squirter, $2.42.
Image: Shutterstock