Taking a Bite from the Apple: 10 Other Tech Brands with Great Design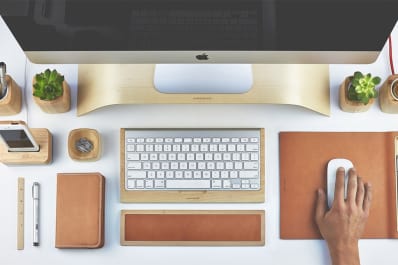 In the early age of technology, products and devices weren't always pretty to look at. Computers were clunky, TVs were monstrous, and— if you can remember this— phones were beige and tethered to the wall. Shudder.
Then Apple came along and changed all that, by making us lust after their beautiful designs. They understood that, as tech jumped off your office design and became personal, the consumer would want style just as much as they want function. Of course, the inner components were just as thoughtfully designed as the outsides, but the beauty of their designs and materials in a sea of grey and beige boxes was what set them apart and made their product launches camp-out-line-around-the-block events.
Today, many companies have followed Apple's lead. The product manufacturers that win the game are the ones that pay attention to the consumers visceral experience with their product, and not just the features inside — especially with those of us who take beautiful living very seriously.
Here's a round-up of brands that are killing it with design. Don't put any of these babies in a corner, they demand to be seen and admired.
Samsung
Every year, I can't imagine TVs getting thinner, and every year I'm blown away by how slim they get. And thanks to the Samsung's ultra-thin bezels and new "No Gap" wall mount, you'll feel like your picture is floating on the wall. Plus their "Invisible Connection" box (which hides away all the connections to your television in a remote location) means you can finally display your television with virtually no cord clutter, like on this easel.
Master & Dynamic
Music lovers all have their own headphone preferences: some require wireless, while others like full coverage. No matter what you prefer, you'll find the best options on the market with Master & Dynamic. They're collection is crafted with the only the finest materials (beautiful metals and gorgeous leathers) built for luxury and durability, without taking away from the product functionality. In other words, they sound as good as they look.
GE
GE is known for releasing innovative products, so it's no surprise that the company's most recent lamp, the C by GE, looks like the future. But this is more than just an LED lamp; the C by GE embeds Amazon Alexa Voice Service, so your lamp will be able to order you a pizza, tell you the weather or sports scores. Illuminating, indeed.
Shinola
You may know Shinola for their Built-in-Detroit watches, but they also have an extensive (and eclectic) product line of leather products, bicycles, and now a stunning turntable. Simultaneously vintage and very now, it's getting rave reviews for sounding amazing. And in partnership with GE (there they are again!), Shinola created extension cords that won't bend or kink up.
Libratone
Remember the days of boom boxes and stereos that took up way too much valuable shelf space? Well, those days are long gone, thanks to product lines like Libratone. Whether you're looking for speakers for your home, bluetooth speakers for on-the-go, or headphones for everyday, Libratone has you covered in style. Their sleek, futuristic-looking products have won some of the biggest design awards, and they never skimp on sound quality.
Nest
Thermostats and smoke detectors were focal points in a room, but Nest took a second look while they were busy connecting them to our smartphones. The round thermostat design has become a best-selling sensation, and now comes in finishes like copper, black and white so you can fit your utilities seamlessly into your design story.
Grovemade
Grovemade's collections are all about supporting the tech products you already love. Monitor stands, keyboard trays, and phone cases, all constructed in the luxe maple, walnut, or leather. Plus other desktop accoutrements like planters and pencil cups.
Bang & Olufsen
Bang & Olufsen has a long track record of being thought-leaders in technology design. The Cool Modern Collection is no exception. The speakers, sound bars and televisions were inspired by Art Deco's metal structures and geometric shapes. Plus they tap into the huge brass trend taking interiors by storm.
Muji
This Japanese brand focuses on minimalistic designs when it comes to its various product lines, including kitchen electronics, speakers, clocks, and more. Muji focuses on utilitarian essentials, and then re-thinks their design— think soft, white, rounded, pleasant. Once you behold their rounded-edge pop-up toaster, any other model looks hopelessly clunky.
Native Union
Native Union is a line of visually stunning tech accessories. The two design-focused founders mix functional design with forward colors, elevated materials (marble, leather, metals, silk cording) that enhance the way you live with the tech products. iPhone cases, charging docks, portable batteries and charging cables, just to name a few.
Apartment Therapy supports our readers with carefully chosen product recommendations to improve life at home. You support us through our independently chosen links, many of which earn us a commission.