10 Tips for a Stress-Free Holiday Party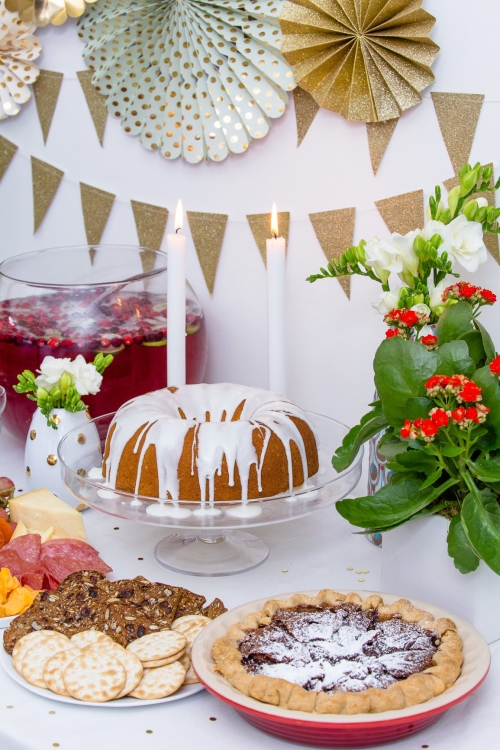 Hands-down, our favorite thing about the holidays is seeing all our favorite people in a five-week sprint from Thanksgiving to New Years. We love hosting and getting our different friend and family groups together, but all that organizing can get a little overwhelming. To keep the focus on the fun, we pulled together a guide to easy prepping, partying and cleaning. From drinks to clean-up strategies, these tips will save you so much energy, you'll want to follow up your next cocktail party with brunch the morning after!
How to Prep Pre-Party
1. Plan a grab-and-go menu.
Prepared and store-bought foods mean less cleanup — think simple but stylish menu items like cheese plates, artisanal crackers and a beautiful bundt cake. If you want to cook, go for oven-to-table recipes that can be made ahead of time. Before your guests arrive, just pop that casserole dish in the oven for a warm-up.
2. Roll with the punch(es).
Skip the eggnog and save yourself the headache of sprinkling each individual glass with nutmeg. Make spirits bright with a cranberry vodka or spiked cider punch. It adds color to your bar and makes it easy for guests to serve themselves.
3. Set up a help-yourself station.
Buffets are the best; they take away the stress of serving so you can focus on more important things (like pouring yourself a punch). Set the table with stacks of plates, napkins, utensils and rows of glassware. To dress things up a bit, hang paper rosettes and garlands, add fresh flowers and sprinkle some confetti across your tablecloth.
4. Wash your dishes – first.
It's not just the food that needs to be prepped. Those special holiday dishes and fancy champagne flutes have probably been tucked away in your dusty closet for months (or years). Run it all through the dishwasher using OxiClean™ Dishwasher Detergent in advance. This way your guests will be using sparkly clean dishes from the start of the party.
How to Be the Life of Your Own Party
5. Give your friends the good jobs.
Post an outgoing friend on door-opening duty or let a master networker help with introductions. There's no need to do it all alone. Everyone wants to help...just give them something to do that they're great at!
6. Stop worrying about stains.
Before your party, make yourself a stain removal kit. For light stains, dab with a little white vinegar and water until it clears. When tougher spills happen on carpets and upholstery, have OxiClean™ Versatile Stain Remover on hand — it's also great for removing dark red wine stains from tablecloths and clothes.
7. Liberally hand out leftovers.
Buy some paper takeout boxes or containers you don't care about keeping. Give your guests some food to take with them when they leave; it means less for you to clean up later.
How to Clean Up Post-Party
8. Skip the scrubbing.
After you've greased up every pot and pan in the kitchen, who wants to scrub up the mess? OxiClean™ Dishwasher Detergent tackles even the worst stuck-on food without all the soaking and scrubbing so you can savor the simple joy of a warm meal at home with family and friends.
9. Designate a spot for your guests' dirty dishes.
Not only will your guests be glad to be able to stash their emptied plates and glasses, it'll also make your post-party clean-up that much easier if it's all in one place.
10. Try the life-changing magic of minimal tidying.
Take out the garbage and recycling, but don't stress about picking up every single surface. The coffee table scrub-down can wait until morning. Hopefully, you've had too much fun to care about stray coasters and you're ready to plan your next party!