10 Tips For Easy Spring Entertaining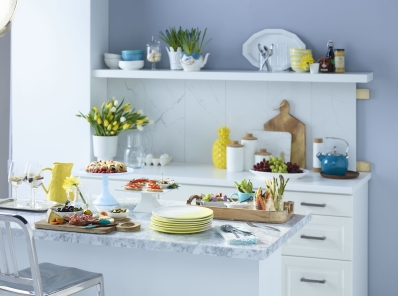 Spring entertaining should always feel fresh and effortless, so we've partnered with HomeSense to put together a list of tried-and-true tips for easy entertaining this season. From edible tablescapes to customized ice, here are 10 ways to keep spring simple this year.
1. Plan A Beverage Bar
Free up some of your time by letting guests help themselves to a refreshing drink. Set out glasses, napkins or coasters, pitchers of beverages and garnishes just before guests arrive. Infuse water with citrus slices and fresh herbs for a fancy flourish.
2. Make Ice Nicer
For a festive touch, drop a raspberry, pomegranate seeds, citrus slices or herbs into ice cube trays when you're filling them up. Or, ditch the water altogether and make ice cubes out of iced tea, lemonade or whatever you're serving to avoid dilution.
3. Set the Table Ahead
Planning a Sunday brunch? Spend Saturday setting the table so when you wake up in the morning you'll have time to focus on baking those cinnamon rolls.
4. Keep Flowers Fresh
You can, and should, make floral arrangements a day or two ahead. Add a few drops of bleach to flower water once you've filled the vase. This will help them last longer and prevents the water from ever getting cloudy.
5. Set Up Some Snacks
Before guests arrive, prepare a crudité platter with spring vegetables like heirloom radishes and blanched haricots verts. Mini ramekins or other cute containers filled with olives, nuts or small snacks are also a good way to go.
6. Prep Recipes A Day Ahead
Chop and measure vegetables and store them in containers or baggies in the fridge; you'll be amazed how much time it saves you on the day of your event. If you're baking, you can measure out all your dry goods ahead of time too.
7. Invite Guests To Bring A Dish
Just because you're hosting doesn't mean you have to do all the work. Guests will probably want to bring a gift anyway; make it easy by telling them they can bring a side dish or dessert.
8. Make Your Tablescape Edible
Crudité platters, cakes, or pretty hors d'oeuvres like prosciutto-wrapped asparagus can add some visual flavor to the table. Set up some of your dishes on cake stands to add height and color to your tablescape.
9. Everyone In Their Place
Although they can seem formal at first, place cards really do take away the where-to-sit conundrum and save everyone some time. A set of place card holders is an essential dinner party tool.
10. Plan A Potluck Playlist
When you send your invite, ask everyone to tell you their favorite song or artist when they RSVP. Then, create a custom playlist for the occasion based on the mix.
Visit HomeSense online for more tips and inspiration, and share pics from your own spring soirées with #MyHomeSense