"Pumpkin Spice" Movies: 15 of My Favorite Films to Get You in the Mood for Fall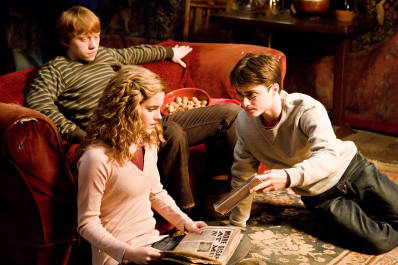 (Image credit: Warner Bros.)
Other than the basking in glory of Ghostbusters and air conditioning on a stupidly hot day, I can't really take movies too seriously in the summer. Summer is for reading outside until mosquitoes and/or darkness force you indoors, whereas autumn and winter were practically made for cozying up inside watching movies. Here are my 15 (well, 22 technically) favorite fall movies, as classified by my personal and highly scientific "Is It Autumnal?" rubric.
Before we begin, you should know that I consider any movie that takes place in a school or the UK to be inherently autumnal, and this list will reflect that possibly flawed outlook. Let's begin.
Old Favorites
Juno, 2007
Back-to-school, Juno's many plaid-flannel-jacket layers, Paulie's hoodie and the overwhelming maroon and gold color scheme of the entire movie: this is an autumn film, never mind the other seasonal title cards that pop up along the timeline.
(Image credit: Summit Entertainment)
Penelope, 2006
This ridiculously delightful film features a pre-Game of Thrones Peter Dinklage, the charming James McAvoy, the FABULOUS Catherine O'Hara and Christina "Why Isn't She In More Stuff?" Ricci, as well as excellent coats, sweaters, boots, and autumn leaves.
(Image credit: Beacon Pictures)
Bring It On, 2000
I could have chosen a photo of Kirsten Dunst frolicking on a swing set on a brilliant fall day in California, but this movie is always and forever a celebration of the glorious Gabrielle Union.
(Image credit: Warner Bros.)
All of the Harry Potter movies, 2001-2011
You've got back-to-school, you've got butter beer, you've got sweaters — excuse me, jumpers galore: the Harry Potter movies are all fall-friendly and you should watch them all some rainy September weekend while you bake — and feast upon — rock cakes, Bakewell tarts, and crumpets. And in case you're wondering, a marathon of all eight films — from The Sorcerer's Stone to Deathly Hallows Part 2 — will take you 19 hours and 40 minutes.
(Image credit: Touchstone Pictures)
Rushmore, 1998
East Coast school movies are prime fall fodder, because you've got the crucial colorful foliage, which is missing from movies set/filmed in California. (Okay, research has just shown me that Rushmore was filmed in Texas and is not "set" in any specific geographic location, but it feels East Coast, and that's what matters here.)
Good Will Hunting, 1997
Now we're talking East Coast autumn magic! Filmed in Boston and Cambridge, Good Will Hunting has school, books, sweaters, tweed, fall leaves and, of course, apples. (Has anyone seen this lately? How does it hold up?)
(Image credit: Film Council)
Bend It Like Beckham, 2002
Googling the correct spelling of the wonderful Parminder Nagra's name led me to the information that she will be joining the cast of Agents of S.H.I.E.L.D, so yay! Anyway, this movie is very autumnal, what with all the jackets and soccer.
(Image credit: Columbia Pictures)
When Harry Met Sally, 1989
This movie has everything: Princess Leia, a wagon wheel coffee table, late-'80s fashion, Meg Ryan at the height of her adorable powers, everything on the side, so many turtlenecks and some of the most autumnal strolls in cinematic history.
(Image credit: Paramount Pictures)
Harold & Maude, 1971
Harold & Maude is infused with the beautiful morbidity of fall and its jackets, sweaters, Cat Stevens score, and golden color scheme (or is that just a '70s thing?) heighten the effect.
(Image credit: Anne of Green Gables Productions)
Anne of Green Gables, 1985
Yes, this is technically a miniseries, but I don't care because it's the best. Be prepared for lots of coziness, baked goods, and Matthew-related weeping.
(Image credit: Pathé Pictures International)
Bride & Prejudice, 2004
This movie is full of glowing reds, burgundies, oranges and pinks. It features gorgeous food you'll want to spend the fall cooking and eating, and it even boasts a harvest scene.
(Image credit: Focus Features)
Pride & Prejudice, 2005
Shawls, reading, striding across golden fields, getting caught in the rain, tea, flattering light, more harvest scenes, and my dream autumn wardrobe: this version has everything you need for fall.
New Classics, Coming Soon
I couldn't decide on which still from Queen of Katwe to use, and then I realized how beautifully autumnal the movie poster itself is. This is the (potentially Disneyfied) true story of a Ugandan chess prodigy and the trailer is glowing, golden, chess-filled and possibly tear-inducing.
(Image credit: Screen Australia)
I realize that the goldenness in The Dressmaker's trailer is probably due more to "Australia" than to "autumn," but I'm including it here. Kate Winslet sports the ultimate fall wardrobe that stands out like a jewel against the dusty, brown landscape.
So, from what I can tell from the trailer, this is Lemony Snicket's A Series of Unfortunate Events crossed with X-Men, so I'm pretty jazzed. Anything by Tim Burton is inherently autumnal and spooky-cozy, and this one boasts the talents of Samuel L. Jackson, Allison Janney and my beloved Judi Dench.
Please share your favorite fall films—as well as your thoughts regarding whether any of my choices can be considered autumnal—below!