15 Young Designers and Collectives to See at ICFF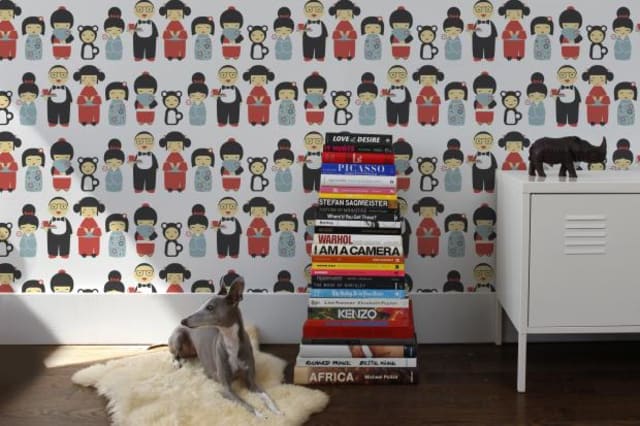 Headed to the International Contemporary Furniture Fair in New York? Here are 15 young firms on our radar. If you don't already know these names, you will soon.
Rich, Brilliant & Willing
New York designers Theo Richardson, Charles Brill and Alexander Williams have already enjoyed profiles in Wallpaper, I.D., and the New York Times, but this is their first time exhibiting as a group at ICFF.
Aimee Wilder
One of our favorite young wallpaper designers, Aimee Wilder has her first ICFF booth this year, too. A graduate of the School of the Art Institute of Chicago, Aimee worked for Dwell and Martha Stewart Living before forging her own unique style.
Elli Popp
UK-based wallpaper designer Katja Behre recently started selling her products in the US under her brand, Elli Popp. Her patterns, which she describes as "neo-romantic," are a super-saturated, psychedelic update of classic motifs rooted in William Morris patterns.
Faktura
Based out of Brooklyn, Faktura makes clean-lined contemporary furniture in bright primary colors and basic blacks. Designer and PRATT graduate Miron Lior is also known for his Conceal Shelf, manufactured by Umbra.
Gina Pierce Design
Hailing from the UK and exhibiting for the first time at ICFF, British designer Gina Pierce uses "digital technology along side traditional hand print techniques to produce fabrics, wallpaper and products." We like her "peeling paint" wallpaper.
Grain
Grain is a collective of RISD graduates experimenting with renewable and unconventional materials to produce sustainable furnishings and accessories. Based out of Brisbane, Washington, they'll be launching a new line of home accessories at ICFF.
ilio
Based out of Istanbul, ilio is exhibiting for the first time this year at ICFF. The company represents the work of several young home furnishings designers, and part of ilio's collection was picked up this year by the MoMA Design Store.
John Green Design
This UK Designer describes himself as "a fresh graduate with high profile products in his portfolio." His "Embrace" table is a two-part design that locks into itself, doubling as a table or shelf — we're looking forward to seeing it in person.
KWH Furniture
Designer Kai-wei Hsu is a graduate of the Rhode Island School of Design who now lives and works in Brooklyn. He uses traditional joinery methods and finishes to create simple, contemporary heirloom pieces, designed to last a lifetime.
AOYA
This Tokyo firm is exhibiting for the first time this year at ICFF. They make "spherical lampshades developed with the seamless three-dimensional washi technique. The series is designed using natural motifs: a giant cocoon, a spindle, a cloud, the moon, and more."
Scott Daniel
A Brooklyn designer, Scott Daniel makes ceramic lamps with a metal skeleton. He says, "the material can be used for various applications where light, texture, shape, and pattern are desired elements."
Shawn Littrel
This LA designer has an inaugural booth at ICFF this year. He worked at Gensler before starting his own design firm in 2008, and he's best known for creating the energy-efficient Ninety Light with Luxo — a design that was recently shown at the Cooper-Hewitt.
Studio Gorm
This design studio from Eugene, Oregon, is made up of John Arndt and Wonhee Jeong. They met while studying at the Design Academy Eindhoven, and they've exhibited at Salone in Milan. This is their first appearance at ICFF.
Team Tokushima
This firm from Tokushima, Japan, makes minimal but distinctive stools and tables using "a spiral pattern processed by a numerical control router, which is difficult to achieve manually." Check out their booth for beautifully crafted woodwork.
Think Fabricate
Another Brooklyn design studio exhibiting for the first time this year at ICFF, Think Fabricate makes shelving, caesgoods, and home furnishings from natural wood and sustainable materials. Susan Doban and Jason Gorsline founded the firm in 2009.
TOKEN
Will Kavesh and Emrys Berkower met at Alfred University in 1992, graduated, and went their separate ways. 13 years later, they reconnected and began throwing ideas around. In 2007, they formed TOKEN, a Brooklyn design and manufacturing firm.
Top Photo: Aimee Wilder Wallpaper