The Essential Shopping Guide to Finally Keeping Your Plants Alive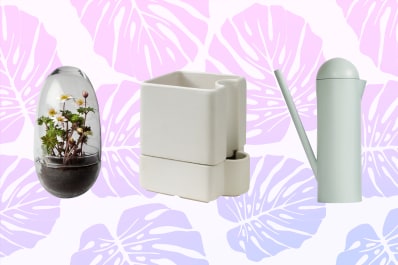 (Image credit: Kirsten Pincket)
If you've given up on keeping plants—any plants—alive, give growing one more shot with these 16 beautiful, clever products that will help keep your greenery not just alive but thriving.
Give snips and sprouts a good start in this handblown glass pod.
This new Indiegogo project from Sweden is designed to grow herbs and peppers hydroponically, automatically. "It doesn't matter if you are away for weeks, or if you don't know how to grow stuff." The project is fully funded, but you can still sponsor it to recieve "perks," which should ship in August.
Threads cleverly wick up water from the reservoir on the bottom of this indoor/outdoor planter.
This smart product, "slowly lets water out into your planter over the course of 3-4 days." The handblown pebbles will look lovely amongst your plants.
Give your ferns and other humidity-loving plants a happy home in this classic steel greenhouse. The clear portions are polystyrene rather than glass, so you don't have to worry about breakage.
If you're going to have ferns, you're going to need a mister, and this beauty from gardening giant Smith & Hawken would look just right in a fernery.
Plant your seeds in the six little wool-lined reservoirs, pour water into the top (mess-free!), plug in, and get to growing. The lights also have an ambient function, so it can still function as a lamp if you're not currently raising baby plants.
This mister is cheap enough that you can buy one for each of your plant areas, yet pretty enough to display proudly. There go your excuses for forgetting to water your greenery.
This light would be worthy of a spot in your home based purely on looks—even if it didn't help your beloved plants grow. The bulb has 25,000 hours of life to offer and will fit into any standard bulb socket.
If you'd like to grow herbs but don't want to cart potting soil and seedling trays home on the bus, these pretty Weck jars, outfitted with stainless steel mesh, soil-free recycled growing medium, and self-watering wicks are for you.
No more sticking your finger in the dirt and guessing! This elegant gadget tells you whether your plants' potting soil is dry, moist or wet and can easily be moved from plant to plant.
This attractive terra-cotta stake lets you upcycle your prettiest glass bottles into handy waterers that will slowly and steadily keep your plants moist. They look perfect with terra-cotta pots, of course.
This combination watering can/pitcher will help you remember to water your plants: a sip for you, a sip for them. Nobody will go thirsty!
If you aspire to air plant mastery, this potion might be the keep to keeping the magical little things—or big things, if you get really good—alive. Best of all, you only have to apply it once a month.
Here's the prettiest watering can I could find. It's coincidentally one of the more expensive watering cans I found, but it's handmade and graceful and your plants (and you) will love it.
LÖV by Jean Huang (not currently on the market...but brilliant!)
Okay, so maybe it's not totally fair to include this product in this roundup, but it was too good not to share. Created by London-based designed Jean Huang, this clever piece waters your plants from the residual rain that drips off your umbrella. It's noted in the official product page that IKEA is a potential client for producing the LÖV (we'll keep our fingers crossed).
Apartment Therapy supports our readers with carefully chosen product recommendations to improve life at home. You support us through our independently chosen links, many of which earn us a commission.