Better Than Reality TV: The Drama of the 2018 Team USA Olympic Skating Selections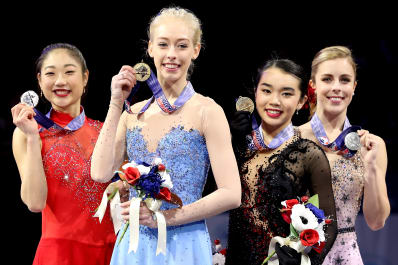 (Image credit: Matthew Stockman/Getty Images)
Subjectivity is always the stuff of drama when it comes to the sport of figure skating. And with all eyes on the ice with the Olympic games fast approaching (and the popularity of I, Tonya at the box office), I'm here for you as Apartment Therapy's resident former rink rat to explain the kisses and the cries — and to introduce you to this year's selected Team USA 2018 players.
More than in any other recent Olympic year, the judges' rankings and skater placements at US Figure Skating Nationals — what should be considered the Olympic Trials for skating, a straightforward "top two, three, or four move forward" — has once again been set aside in favor of the selection committee's subjective choices for whom among the ranks of top US skaters has... well, that's exactly the controversy and debate.
Is it more crowd appeal? More ability to bring in sponsorship and advertiser dollars? The best actuarial-crunched chances of bringing home a medal? Whatever the factors in the heartbreaking decisions made by the USFSA selection committee to omit certain (proven, consistent) skaters in favor of others for Team USA this time around, the facts are simply that some of the US's top athletes — including our current 2018 National silver medalist, Ross Miner — will not be headed to Pyeongchang, South Korea. Not even as first-pick alternates. Oh the dramz!
But that's what, much to the dismay of current and former competitive skaters (like myself), sets US Figure Skating apart from other sports — some say it's actually what keeps figure skating from being taken seriously by other athletes. So it should really make you empathize a little with the backstage (sometimes on-camera) frustration that leads to some of those headlines, soundbites, and, yes, even biopics. Could you imagine if Tom Brady or Aaron Rodgers won a Superbowl but then were passed over for US Football's Olympic team (if they had one) in the same year?
So who will be going to represent Team USA figure skating in all its bedazzled, glittery glory? Read on for a quick primer to your 2018 Olympic Team — the "why you should watch" distilled down to one extended tagline per skater or duo.
Bradie Tennell
The rookie ingenue. At just 19 years old, Tennell split-jumped over three more seasoned skaters to take gold at 2018 Nationals — and just might pull a Tara Lipinski in Pyeongchang. Tennell and Adam Rippon (below) are tied for the potential Cinderella stories of the year.
Karen Chen
The second coming of Katarina Witt. Chen is the defending 2017 US National Champ, and like Witt will also be channeling Carmen for her long program —which she also choreographed herself . (At just 18, she's already published an autobiography, too.)
(Image credit: testing/Shutterstock)
Mirai Nagasu
The comeback kid. After being snubbed by the USFSA selection committee for the 2014 Olympic Games in Sochi, Nagasu is in it to win it this time around.
(Image credit: Gertan/Shutterstock)
Adam Rippon
The first openly gay athlete in figure skating, Rippon only placed fourth at the 2018 Nationals but the selection committee must see him as an underdog contender. Maybe it's his "Rippon Lutz."
Nathan Chen
The renaissance man — perhaps the male Michelle Kwan. Chen not only skates but plays piano, guitar, and violin, and taking up the baton for Kwan is the latest muse for former figure skater turned fashion designer Vera Wang.
Vincent Zhou
Go with Zhou, doggo. The elegant, effortless, dynamic 2018 Nationals bronze medalist loves a good meme, according to Cosmo.
Alexa and Chris Knierim
The only pairs team to represent the US at this Olympics, the 2018 Nationals gold-winning couple (both on and off the ice) has a balletic pas de deux chemistry that's undeniable — and a badass split quad twist. Also according to Cosmo, they're the unapologetic crazy cat couple of skating.
(Image credit: Olga Besnard/Shutterstock)
Madison Hubbell and Zachary Donohue
"Madi and Zach", as they're known to their friends, are sweet and innocent off the ice (like in this adorable Advice to Younger Self video on the official USFSA YouTube channel), but a sultry, fierce powerhouse of strength in their Great Gatsby-esque, Nationals Gold-winning free dance. Meow.
(Image credit: Maxisport/Shutterstock)
Maia and Alex Shibutani
The "ShibSibs" as they're known (because, siblings), have gained a rabid fan following from their YouTube channel and other social media — and, after a less-than-a-point loss to Hubbell and Donohue at Nationals will make this a razor-sharp shave of an Olympic dance competition.
(Image credit: Gertan/Shutterstock)
Madison Chock and Evan Bates
Always a silver medalist, never a champion. Chock and Bates skated together at the 2014 Olympics in Sochi, but since have started dating. Maybe that extra sizzle — or the "twizzle into my heart" (that's an ice dance pun, you guys) — will give them that extra edge towards gold this time around.
Apartment Therapy supports our readers with carefully chosen product recommendations to improve life at home. You support us through our independently chosen links, many of which earn us a commission.