Big News About the Small/Cool Contest! The 2021 Grand Prize Winner Is…
We independently select these products—if you buy from one of our links, we may earn a commission. All prices were accurate at the time of publishing.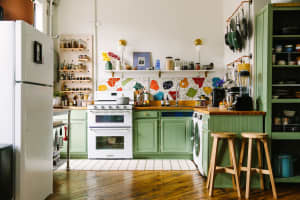 Can't-Miss House Tours Straight to Your Inbox
Keep up with our latest house tours each weekday with our House Tour of the Day newsletter
But first, some backstory. (We know, we know, bear with us for a quick sec.) Last year, Apartment Therapy revived the reader-favorite Small/Cool Contest. We hadn't run the contest since 2016, and we were so excited to see your small (1,000 square feet or fewer) and cool (self-explanatory) spaces from all around the world. In the end, Michelle Spetner's 590-square-foot, modern-eclectic apartment in Oakland, California, took home the grand prize. 
Of course, you know what happened next. You loved the contest, and we brought it back again this year! Just like in 2020, we asked participants to submit their homes in four brackets: Small (751-1,000 square feet), Smaller (501-750 square feet), Tiny (251-500 square feet), and Teeny Tiny (250 square feet or fewer). We also introduced a new category for U.S. residents: the Best Use of Color superlative, sponsored by BEHR Paint Company. 
Once again, hundreds of people from all over the world entered. Then, you voted hundreds of thousands of times and picked your favorites in each category: Lucía Gogenola's 914-square-foot, botanical, personality-filled apartment in Rosario, Argentina (the Small finalist); Peter Thomsen's 660-square-foot, comfortable, inviting house in Scotts Valley, California (the Smaller finalist); Denise Bayron's 280-square-foot, modern, calming ADU in Oakland, California (the Tiny finalist); and Courtney Cripps' 248-square-foot, intentional, colorful apartment in New York (the Teeny Tiny finalist). You also chose Christy Joehl's 270-square-foot, eclectic, artisanal apartment in Brooklyn as the inaugural Best Use of Color winner. The four bracket finalists and the Best Use of Color superlative winner each won $1,000. 
Last week, our three judges — Maxwell Ryan, founder and CEO of Apartment Therapy Media; Alberthe K. Buabeng, interior design content creator at Albie Knows; and Erika Woelfel, director of color at the BEHR Paint Company (which sponsored the contest) — gathered over Zoom to select the grand prize winner out of the four bracket finalists.
You didn't make it easy for them! But in the end, only one Small/Cool space can reign supreme each year. And we're thrilled to announce that…
Lucía Gogenola is the 2021 Small/Cool Contest grand prize winner!
All three judges raved about how Gogenola used her entry photos to highlight various areas and moments in her home.
For Buabeng, the biggest factor in declaring Gogenola the victor was the amount of thoughtfulness she put into the space. "There was a lot of balance," Buabeng says. "She seemed very intentional about where to put color, where to let the natural details come in." 
Speaking of that color, Woelfel particularly appreciated Gogenola's use of paint, from her teal lower kitchen cabinets to her green, yellow, and burnt orange murals. "She made some beautiful little transparencies and layers, so obviously she knows color really, really well," Woelfel says. "For me, the color was kind of the hero."
Ryan agrees with the other judges, adding, "The color and the pattern expressed her personality." He also noticed how airy and light the space was. And he didn't think that was simply because she had the most square footage as the finalist in the Small bracket, either. "I learned long ago how to fill my space up to the brim, and I've come to appreciate over time those that step back from that," he says. 
All of the bracket finalists "were fabulous," Ryan says. "I think they're all winners. But this one sort of nosed ahead because of those special characteristics."
Gogenola (@proyectopasillodeco) lives in her winning apartment with her partner, Agustin, and their two cats, Olivia and Lupita. 
If that sounds like a perfectly reasonable amount of humans and animals for a 914-square-foot space (Gogenola took measurements after submitting and confirmed that the apartment is exactly 914 square feet!), get this: For most of its existence, the apartment has housed way more people. Gogenola says her grandparents purchased the apartment when it was first constructed decades ago, and they raised their three kids — including Gogenola's mom — in it. Later, Gogenola's parents raised her and her two siblings in the apartment. Three years ago, Gogenola and her partner took over the space (thanks to Gogenola's mom, who owns the home now and lets them stay in it — sweet!). Today, they use one of the three bedrooms as an office and another as a storage space. Gogenola says she previously shared her current bedroom with her sister. 
When Gogenola and her partner moved in, she says the apartment teemed with big Louis XV- and Louis XVI-style furniture. Gogenola's family sold a lot of the furniture, and the apartment became home to a mix of inherited furniture from this apartment and from other family members, plus a few new pieces. The biggest alteration the couple made was painting all the walls white. 
The thing is, the pair only intended to stay in the apartment for a short amount of time. In fact, they were set to marry on March 21, 2020, then fly to Spain (where Gogenola's mom now lives) in May 2020 to live for a few years. But of course, then the pandemic happened — Argentina began a mandatory quarantine on March 19, 2020 — and all of their plans changed. (The couple currently plans to marry this October.)
They decided to channel their feelings and their extra time at home into the space. "We felt like, we don't know how much time we are going to spend here, so the time we're going to spend here, we tried to make it the best we can," Gogenola says.
So Gogenola started painting. She painted the multicolored mural and the grass-green mural. She lathered the interior front door in her favorite color, yellow. She and Agustin spent four days completely making over the kitchen using only paint, including covering the handles and the tile backsplash, and coating the bottom cabinets in a color that she says looks either more blue or more green depending on the time of day. The couple also decided to quit their jobs and focus on a new endeavor: a brand of steel houseware.
Gogenola explains that the apartment holds so many memories and she wants to preserve those — but she also wants to add her own personality to the place. Now the apartment is filled with furniture from family, plus DIY touches that let Gogenola and her tastes shine.
Congrats, Lucía, and a big thank you to everyone who submitted their homes and voted in this year's contest!
Check out the homes of the other three 2021 Small/Cool Contest bracket finalists — plus the digs of the first-ever Best Use of Color superlative winner — here: