3 Gross Plumbing Problems and How to Fix Them, According to Pros
We
independently
select these products—if you buy from one of our links, we may earn a commission. All prices were accurate at the time of publishing.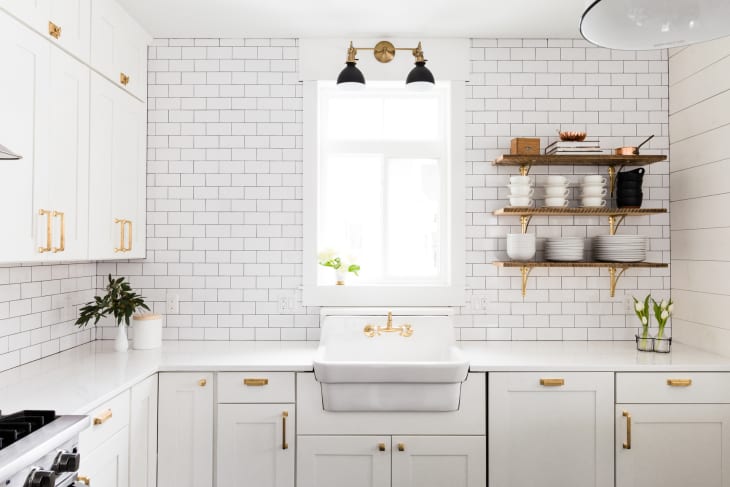 Plumbing problems are the worst: things gurgling, backing up, and stinking up your beautiful home is the last thing you want to think about. But with a little prevention and know-how, you can problem-solve and ensure you don't ever encounter any of these nasty issues again. Here, three gross problems you might encounter at home, and experts' top tips on how to fix them.
Problem: Your bathroom smells like sewage.
The only smell you want leftover in your bathroom is the sweet lavender scent from your last bubble bath, or your favorite candle burning on the counter. But sometimes, sneaky problems with your plumbing can cause your spa-like oasis to smell more like a Port-o-Potty. 
Doyle James, President of Mr. Rooter Plumbing, has some specific places to check for the issue. First, the toilet: "Examine the wax ring that seals the toilet's drain. If your toilet bowl wobbles in place, you may need to replace the wax ring," James says.
Second, he recommends examining the caulking around the toilet base itself, where bacteria can find a cozy home in your spa-like sanctuary. Old water or urine can also be hanging out in that space, causing your unwanted odor. "Apply caulking to form a protective coating around your toilet base and combat bad odors," James says.
Problem: Your air conditioning unit smells like stinky feet.
Not only is it gross to catch a whiff of a funky smell from your AC unit, but it could also represent a serious health hazard in your home (even if you aren't turning it on right now).
Marla Mock, VP of Operations at Aire Serv, a heating and air conditioning company, says you can have some mold issues if you are noticing this smell, which will only get worse once spring comes and you turn your unit on. "Stagnant water sitting in a clogged drain pan can cause the smell of stinky feet," Mock says. Start by replacing the filter and unclogging the drain pan.
If the smell is coming from somewhere else in the AC unit, you may need the help of an HVAC professional. Book someone before the weather gets hot to ensure that you won't be stuck with stinky air once you flip your cooling system on.
Problem: Your sink, disposal, or hot water smells like rotten eggs.
You know to expect a rotting egg smell from gas leaks, but who would have thought your hot water could smell that way? It's possible, and likely caused by a water heater issue in which bacteria colonies set up shop there after long periods without use or if the heater is too low.
Luckily, James says, this type of bacteria won't harm humans, but it sure can make drinking a glass of water a nasty experience. To fix, increase the temperature for up to 24 hours, and run the hot water taps to flush the bacteria through your system.
If it's the sink itself that's causing the stink, check the overflow that's located underneath or across from the faucet. James recommends mixing a half cup of bleach and half cup of water to pour into the sink overflow hole. 
You may also find the smell is coming from your garbage disposal, where food particles can lead to mold and bacteria growth. Follow James' cleaning method to fix the problem and ensure future smells don't arise:
Pour half a cup of baking soda into your disposal, followed by a cup of vinegar, adding slowly and letting the mixture fizz. (If you have a double-sink, plug the opposite side.) 
While this mixture is fizzing, bring a pot of water to boil. Very carefully, pour the boiling water down the drain to rinse away debris the fizzy mixture has loosened. Now fill the drain with 2 cups of ice, adding 1 cup of course rock/sea salt if you have it. Run the cold water, and the disposal. 
Finally, cut a lemon or lime in half, adding the halves to the drain one at a time, to deodorize your disposal. 
Repeat weekly, or daily if odors persist, until unwanted smells are eliminated. If smells persist despite the cleaning methods above, you may have overlooked cleaning a component of your system.