This 310-Square-Foot Provence Apartment Is Small But Perfect
We
independently
select these products—if you buy from one of our links, we may earn a commission. All prices were accurate at the time of publishing.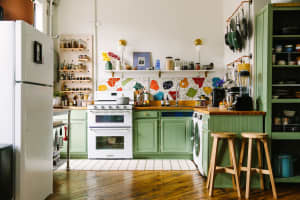 Can't-Miss House Tours Straight to Your Inbox
Keep up with our latest house tours each weekday with our House Tour of the Day newsletter
Name: Nelly Reffet
Location: Arles — Provence, France
Type of home: Apartment
Size: 310 square feet
Years lived in: 2.5 years, owned
Tell us a little (or a lot) about your home and the people who live there: This tiny apartment is actually my holiday home. I moved away from Arles, where I grew up, to settle in Australia 16 years ago, but I've kept a strong sense of belonging to Arles, where I return every year for work and pleasure. It's also where most of my friends live. I love Australia, but Arles is home — it always has been, and always will be. So, I was devastated when my parents relocated elsewhere and I no longer had a place to call my own.
After a few years of squatting on my friend's comfy couch during my annual trip to Arles, and avidly perusing real estate every day, I made the big jump in October 2019: I saw the ad for this apartment within one hour of it being listed, booked the first visit, and made an offer within five minutes.
As I was in Australia then, a friend of mine visited on my behalf and made a 90-second video of her tour. I decided to buy it right after watching — one can say it was love at first sight! It had everything I had listed in my "must-have" list: high ceilings, lots of natural light, a small but cute balcony, heaps of character and original features such as traditional limestone walls, and 1930s encaustic tiles. No renovations were urgently required, which was a blessing for me, given I was in Australia.
The offer was accepted but I was only able to see it in June 2022, when I was finally allowed to go to Arles, after a couple of years of closed Australian borders. It was everything I had envisioned… and more!
Since I bought it, I had a few tenants staying there, mostly students. I rent it out during the school year (September to June) and get back to myself in June, July, and August when I'm in France. It is my sanctuary and it doesn't even feel small.
I'm an interior designer, and I made a point of creating a space that is comfortable year round, not just for holiday-makers. I wanted to be sure I could live here forever if I wanted to, and that tenants would be feel happy, safe, and nurtured in this home as well. So far, the feedback from tenants has been overwhelmingly positive, and I am totally in love with my tiny apartment.
From the get-go, I wanted this space to be a reflection of who I am. It has a true Mediterranean vibe, which is in line with the location. It has a vibrant terracotta wall —which was painted by my parents, after sampling five different paints and getting me to choose my favorite color over a Skype session — touches of ochre and yellow, a Moroccan rug and ottoman, and the Provençal baskets on the wall.
I wanted it to feel cozy, like the warm hug of my best friend, so I added curves and layered soft fabrics, such as wool and velvet. Most pieces of furniture are antique or vintage, and full of imperfections — just like me! There are also some old pieces of mine: the tea table I bought in my late teens is now my bedside table; the Italian desk lamp I had as a kid in the '80s is my bedside lamp; the big painted vase on my chest of drawers belonged to my late grandmother. These items have been with me for a long time but have stayed in storage for quite a few years, and it's been a joy putting them up for day-to-day living again.
Apart from the mattress, an IKEA lamp and the "I Love You. in French" print, I bought most things second-hand from the French website Le Bon Coin and from Marketplace (all done from Australia!). I had also bought a few things from some French op shops before even buying the apartment: things I just loved and knew I would put to good use one day. I am just really glad that, everything I bought, seen or unseen, has magically found its perfect spot in the apartment.
Describe your home's style in 5 words or less: Cozy-vintage-Mediterranean-eclectic
What is your favorite room and why? I adore the bedroom, mostly because the white walls give it a serene vibe, and the original tiles are just magnificent, but I have to say I feel a surge of happiness every time I walk through the door and see the main living area. The light that streams through it, the view of the nearby plane trees, the mix of textures, the colors. It gives me a sense of peace and alignment I have rarely felt before.
What's the last thing you bought (or found!) for your home? I bought quite a fair deal of items in the lead to my arrival in France, but I think the last piece was the giant '70s wall fan. I wanted something to put above the bed to balance out the height, without being a bedhead, and I didn't want to use paint. When I saw it online, I had to have it. And at 15 euros, it fit perfectly in my "nothing over 50 euros" thrifting policy!
Any advice for creating a home you love? Disregard trends, but take into consideration your bare space. What do you want to create, not so much in terms of style, but in terms of feel? Then, be very intentional with everything you buy. Fall in love with the item first, but always make sure you have a true good spot for it.
You don't have to be minimalist, but you don't want to end up in a clutter of things that you won't be able to notice individually, especially in a small space. And don't forget the tiniest details, especially when it comes to things you'll use daily, like the toilet paper holder and the cutlery! It doesn't have to be expensive, but it has to create joy and to be functional, too.