35 Totally Free Ways to Transform Your Home
We independently select these products—if you buy from one of our links, we may earn a commission. All prices were accurate at the time of publishing.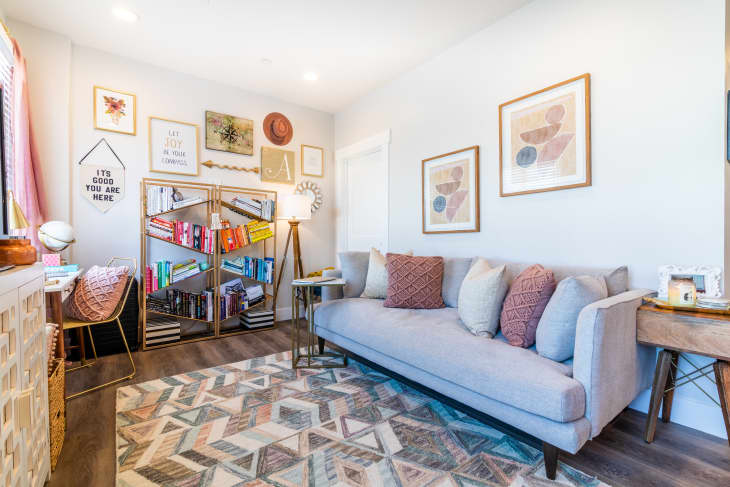 It's happened to all of us: After spending months and months of decorating your home to perfection, you suddenly become, well, bored of your space. You need a change of scenery—or simply something to kickstart your creative juices.
However, there's one tiny problem: You don't have the budget to completely transform your space. While investing in new furniture or applying a fresh coat of paint can singlehandedly take your home from meh to marvelous, your bank account has other plans.
The good news is you don't need to spend a small fortune to zhuzh up your space. They say the best things in life are free, and great design is no exception. To help, we're sharing 35 small yet effective ways to transform your home in honor of our September theme for Apartment Therapy, transformations. We included some of our favorite, time-honored tips, in addition to some fresh new ones from design experts. Best of all? They all cost nothing at all:
1. Write a goal on a Post-It and stick it to your wall to practice manifestation.
2. Place your plants on your windowsill. Trust us, they'll actually grow a lot better when they're close to natural light.
3. Redo your shelves. Why settle for solely books when you can add photo albums, vintage coffee mugs, and, yes, the occasional stuffed animal?
4. Make your bed every. single. day.
5. Draw something you like and then hang it on the wall.
6. Complete a puzzle and then display it as if it were art. All you need is an old frame and a lot of patience.
7. Change the look of your lighting by draping a cloth over your lampshades.
8. Declutter. It sounds simple, but the difference a tidy home can make is otherworldly.
9. Flip a big piece of furniture (like your couch or your bed) to the opposite wall.
10. Propagate your plants to have even more leafy greens.
11. "Change up the artwork and put a large statement photograph or painting on the wall. It will instantly refresh and energize your space," says Jessica Davis, interior designer and founder of Nest Studio. Instead of forking over money for a new piece, you can easily move your favorite piece from one room to another.
12. Create a collage of your favorite magazine clippings on your vanity table. Place a piece of glass over your collage to seal the deal.
13. Ask if there's anything you can take off your friends, family members, or colleagues' hands. After all, one person's trash is another's treasure.
14. Place dried flower petals in a small bowl for a stylish, DIY potpourri.
15. Mix and match items with different finishes. "Mix glossy with matte finishes and display creatively for an exciting contemporary look," suggests Laura Muller, CEO, owner, and principal designer for Four Point Design Build.
16. Rethink your storage system. "In small spaces, the big issue is simply having too much stuff in the room," says Donna Garlough, style director for Joss & Main. "But if you can't get rid of the clutter, you can at least get rid of the visual clutter by stowing your things in matching containers." Chances are, you already have some great storage containers lurking in your space.
17. Grab some leaves or sticks from the backyard and put them in a vase for instant rustic glamour.
18. Make your wardrobe part of your decor by displaying a few hats on your walls. (Hint: You can also hang some unused woven trays for the same effect.)
19. Set the mood by lighting more than one candle. Not only will your place look ridiculously cozy, but it will also smell amazing.
20. Reorganize your bookshelf. (Psst… your shelf doesn't have to be color-coded).
21. Strategically place a floor-length mirror (if you own one) to make a room seem double the size.
22. Make a simmer pot using edible items you already own—such as cinnamon or orange slices—to give your home a fresh and different new smell.
23. Clear out your bathroom cabinet to make things less cluttered—and also rediscover things you forgot you had! We hate to break it to you, but your cosmetics do have expiration dates.
24. Put pasta or another interesting looking staple in a clear vase for a kitchen accessory. The easier access to carbs, the better.
25. Tear out pages from an old book and use them as wallpaper.
26. Rethink your lighting. "Adding a new source of light, or shifting the light output in a room makes everything look fresh," says interior designer Alison Pickart. You can even move an under-utilized lamp into another room.
27. Use leftover washi tape to make designs on your walls.
28. Go outside and pick some fresh flowers, then put in a vase to decorate your space with and add a nice pop of color.
29. Create well-curated vignettes on your nightstand, desk, or vanity table. Trust us, you'll receive a lot of compliments from guests.
30. Fan out a few colorful magazines on your coffee table. Miranda Priestly would be so proud.
31. Remove your closet door—it's not as tricky as you'd think!
32. Give your couch a cozy feel by artfully draping a throw blanket over its back.
33. Put your cotton balls into old mason jars for an added flair.
34. Make your powder room feel super fancy by placing a particularly pretty candle inside.
35. While karate-chopping your pillows is a surprisingly polarizing hack, it can give your home a magazine-like quality.
Honestly, there's a lot more where that came from. Whether you scooch something over a few inches, do a design swap with a friend, or repurpose something that's holing up in your junk drawer, the options are limitless. And if you have any favorite free redesigning ideas, let us know in the comments! Happy Transformation Month!