A 375-Square-Foot Studio Is Efficient and Organized Thanks to a Variety of Storage Solutions
We independently select these products—if you buy from one of our links, we may earn a commission. All prices were accurate at the time of publishing.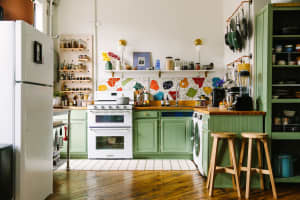 Can't-Miss House Tours Straight to Your Inbox
Keep up with our latest house tours each weekday with our House Tour of the Day newsletter
Name: Patrick
Location: Chelsea, NYC
Type of home: Studio Apartment
Size: 375 square feet
Years lived in: 4 years, renting
Tell us a little (or a lot) about your home and the people who live there: I have lived in this small studio apartment in West Chelsea for four years now. I love the neighborhood—there's art, style, and great proximity to everything. I walk to work, I'm close to the Hudson River Bike Path, and there's always something going on nearby. Despite the apartment's size, it has a unique layout that lends itself to different zones, which helps to break up the space. This has been especially impactful during the lockdown phases of 2020, and WFH. Although it is essentially all the same space, I am able to keep functions separated. In addition to working, cooking, sleeping, and relaxing in my home, I have recently started sewing soft goods in limited quantities, adding another layer to what this small space is capable of housing. It has been refreshing to find a creative outlet that is compact enough that it can be handmade within my small corner of NYC.
I think the biggest drawback of my apartment would be the lack of daylight. I really only have one large window providing light to the whole apartment. This large window, however, also serves as a door to my small outdoor patio space, which is quite rare in the middle of Manhattan. While I do wish there was more daylight sometimes, I find the tradeoff of private outdoor space to be worth it over all.
I am an architect, and so this inevitably contributes to how I approach my own space. However, the duality is that I am also a renter, which creates limitations to what I am able to change about my home. I do believe my profession has helped me to approach this small space with creative solutions that maximize the functionality, efficiency, and style without losing my rental deposit. The decor of my home is primarily composed of small mementos from my travels and previous cities I've lived in, as well as what is growing to be an unwieldy amount of books and shoes.
Describe your home's style in 5 words or less: Flexible, efficient—eclectic, but organized.
What is your favorite room and why? Being a studio, there is truly only one "room," but I feel most grateful for the zone that houses my computer desk, sewing table, and bicycles. Having these functions in their own space, away from the rest of the living/sleeping area, has drastically improved my live/work balance and the overall quality of my home.
What's the last thing you bought (or found!) for your home? I have had most of the primary pieces of furniture in my home for quite some time now, however during quarantine I tried to make some small home improvements. I purchased the shelves that serve as my shoe racks, which helped to give greater organization to that collection. I also purchased some LED string lights to line the perimeter of my ceiling. Both were found on Amazon.
Any advice for creating a home you love? It is somewhat common Apartment Therapy advice, but take your time. I think true comfort and personal style within your home comes through living there, it cannot be rushed into being. Things change, better solutions present themselves, objects move around—embrace the process! Also, I would encourage anyone living in a small space, or considering a small space, to be flexible and approach everything creatively. It may not seem like it at first, but you will find a place for everything, and you will find ways to feel at home.
This submission's responses and photos were edited for length/size and clarity.