4 Elements That Will Create a Distinct "Bedroom" in Your Small Studio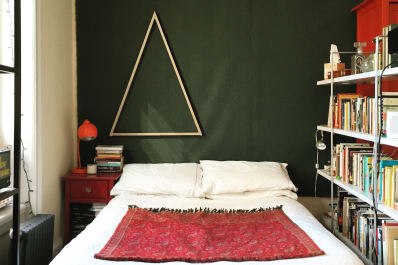 (Image credit: Submitted by Brittany)
This bedroom came into our Favorite Rooms submission form but isn't actually its own separate room—it's a lovely, simple space that's been carved out of a small studio apartment. And there are four specific things that Brittany did to make this bedroom area feel more like a bedroom.
(Image credit: Submitted by Brittany)
From Brittany :
This is our little faux bedroom that is actually just a part of our studio apartment. I'm so proud of the fact that we were able to use this simple IKEA bookshelf to divide the bedroom from the rest of the apartment to make it feel like a truly separate space. When I lie down to sleep, it feels private and like I'm almost actually in a bedroom. This is hard to accomplish in a studio and I'm happy we were able to do it.
The bedside table is a dumpster dive find. I feel like it may be a throwaway piece from a childhood bedroom? Its bold color is what stood out to us and why we decided to snatch it up. I switched out the knob with a crystal knob from Anthropologie and voila! A more adult bedside table was made.
The triangle hanging above the bed is one of my favorite pieces in this room. My partner is in film and this was given to him with a bunch of textiles (including the green piece on the wall) to use for art direction in a film shoot. He did not end up using it in the shoot, but I thought it made the perfect little modern art piece. I think you could probably make this for $10. It's literally just pieces of wood nailed together.
I'd also like to mention a special piece in the room that was handmade by my partner... the bed. It not only provides a ton of storage underneath (a definite necessity in NYC), but it has a simple clean design that helps make a small space feel more open. Every time I look at this piece I feel grateful for my partner's strength and hard work he put into making it. Only a handmade piece can give you a warm feeling like that.
(Image credit: Submitted by Brittany)
Wall color: forest green textile
Bed: handmade
Bedside table: dumpster dive find
Lamp: Urban Outfitters Gumball desk lamp
Bookshelf: IKEA ENETRI shelving unit
4 elements that will help create a distinct bedroom area in any studio:
1. Large bookshelf or divider
You don't need walls to create privacy—a large bookshelf or divider will be help immensely. What Brittany and her partner did in this space that really worked was make sure the furniture in the rest of the studio faces away from the bedroom area—helping solidify the feeling of privacy.
2. Distinct wall color that's different than the rest of the apartment
Using a wall paint color (or in this case, a colored textile hung on the wall) can have a huge visual impact on separating an area in a studio space. Here, dark hunter green color signals that the bedroom area is its own space.
3. A nightstand and lamp setup
Even if the space you've been able to carve out for your bedroom area isn't much bigger than the bed itself, try and find room for a nightstand setup. Having some of the "typical" bedroom furniture in your sleeping area will help make it feel like its own room.
4. Beautiful bedding
You want to think bold when it comes to outfitting a bed in a bedroom area of a studio apartment. Using something with color or pattern will allow the bedroom area to visually stand out and stand alone. And it doesn't even have to be huge or expensive—here a small colorful throw makes an impact.
---
Thanks, Brittany!
Would you like a room in your home (any room!) to be featured as an Apartment Therapy Favorite Rooms post? Submit your room here.
Apartment Therapy supports our readers with carefully chosen product recommendations to improve life at home. You support us through our independently chosen links, many of which earn us a commission.