4 Magical Tricks to Steal From Macy's Holiday Window Decorators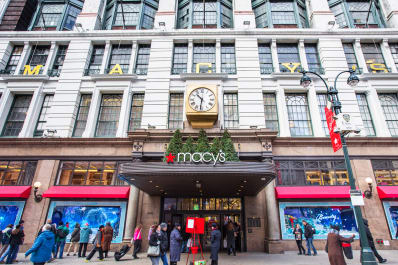 (Image credit: littleny/Getty Images)
When you live in New York, it's easy to take all the holiday feels for granted. There's something merry and bright to see on every corner, and I'd be lying if I said I was soaking it all in. But one thing I and pretty much every Christmas-loving New Yorker do pay attention to is the major department store window displays. Take what you see at the local mall, multiply it by a thousand and you're starting to get close to the level of creativity behind these miniature worlds.
Stores really go all out, but if I had to pick a favorite, it'd be Macy's. I mean, talk about a miracle on 34th street: According to Roya Sullivan, the department store's National Director of Window Presentation (dream job alert!), planning for the windows begins in January right after the existing decorations come down. The design is formulated by March, and altogether it takes 11 months to construct the six windows and 21 days and nights to install them. That's some effort!
You probably don't have that kind of time on your hands to decorate, and that's okay. Because Sullivan shared a few tricks from this year's windows that us normal folk can use in our own homes. So get ready to get your holiday on, Macy's style.
Tip 1: Pick a Theme and Stick to It
Every window display starts with a theme, and this year's was "The Perfect Gift Brings People Together." Each window riffs on that idea in a different way, but at the core of each, is a holiday pastime, from ice skating, tree trimming and seeing a seasonal show to traveling, hoping to catch a glimpse of Santa in his sleigh and, of course, shopping for holiday presents. "As we created these windows, we were thinking about the magic of holiday traditions and the importance of being with those we love throughout the holiday seasons," says Sullivan. "We wanted to capture the bustling energy and magic of New York City during the holidays, filled with special moments with family and friends."
Everything is playful, down to the "#elflife" graffiti included on the Macy's subway station in Window 5, which is transportation themed. Don't be afraid to have a little fun with your decor either. Things don't have to be precious. If you want to do a tree in all food or emoji ornaments, for example, go for it. Maybe skip the unicorn references though. Let's agree to let them go. That's all I want for Christmas.
Tip 2: Get Creative With Your Color Palette
Instead of decorating with traditional red and green, try something different. Macy's paired purple with red this year in a majority of their windows. "Red and purple are wonderful holiday colors—they are rich and inviting," says Sullivan.
Remember that colors can also symbolize wintry motifs, too. "We added lots of whites and light blues to represent snow and ice, creating a winter wonderland."
And think about the impact your overhead lighting might have on the entire scene—or all of your decor for that matter. To soften the blues and whites of "ice" and "snow," Macy's always lights the area with ambers and light pinks to make sure the overall effect is inviting. A colored bulb could be a fun way to add drama and warm things up in your own home for the holidays.
Tip 3: Be Patient With Lights
"Even professionals have trouble with tangled wires!" says Sullivan. Don't rush with taking the lights out of the box. "Undo one to two light bulbs at a time. String the lights on greenery then undo more light bulbs and add again."
People love putting candles in their windows, but consider thinking outside of the box, literally, by framing out your window in lit greenery the way Macy's does. You could probably DIY a similar look with four swags and white string lights.
Tip 4: Borrow From Your Tree (& Your Kitchen)
If you want to create a vignette on a table, mantel or even a tray with the same magic dose as a department store window, Sullivan suggests using ornaments to set up your scene. "I have lots of ornaments that depict Santa and Mrs. Claus," she says. "Putting them together with a small tree and surrounding the set with some tea light candles would create a sweet tableaux."
To round out the display, Sullivan says you'll need snow. Instead of buying a bag of faux flakes, she suggests using salt or sugar to represent fresh powder in your scene.
And there you have it. I'm not promising Herald Square crowds or anything, but your decor just might be a little more creative this year if you take just one of these ideas and run with it.
Apartment Therapy supports our readers with carefully chosen product recommendations to improve life at home. You support us through our independently chosen links, many of which earn us a commission.