4 Stunning Bathrooms Inspired by Great Eras of Design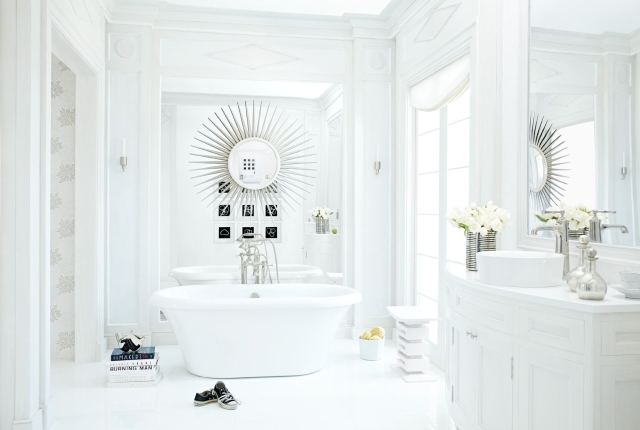 When it comes to bathroom design, the focus is more often on function rather than form. But there's really no reason why your bathroom can't become one of your most inspiring spaces. We took a look at four beautiful new baths that take inspiration from great eras of design to create a timeless space. Which one best fits your style?
What's your bathroom style?
Classic
Beautiful baths were at the center of ancient Greek and Roman society, so it's especially fitting to integrate Classical proportions into today's modern baths. Designer Mary Douglas Drysdale made the St. George Freestanding Tub the focus of this classic white bathroom, which also includes a Pop Round Vessel sink with a Randall Single Lever faucet. Would you ever leave this room?
Golden Age
If you're looking for something a little sultrier, you might prefer this Jazz Age-inspired design by Meredith Heron. Centered around the (aptly named) Fitzgerald Tub, this "Modern Gatsby" bathroom marries Art Deco opulence and modern luxury. Decorative faucets, tub fillers, and handshowers from the Randall Collection evoke a timeless elegance.
Modern
On the other hand, Coco Chanel once said that "Elegance is refusal," so for some, that means reducing forms to their essence and experimenting with contrasts to make an interior that is anything but basic. This bathroom employs bold floor stripes against an otherwise neutral palette for a good dose of modern drama. The flowing organic forms of fixtures such as the Rem Faucet provide understated balance. Overall, it's simple yet sexy—Coco would approve.
Contemporary
If you usually define your style as 'eclectic,' the contemporary mix might be the way to go. Bring together forms, textures and finishes from multiple eras for a timeless look. Chic textiles, like the shaggy bathmat and upholstered bench give the space bohemian charm, while fresh finishes and fixtures like The Lyndon Freestanding Tub Filler add contemporary flair. Of course, it wouldn't be truly contemporary without a high-tech toilet such as the AT200 Smart Toilet, whose sleek design integrates a bidet, heated seat, and nightlight.
Which is your favorite bathroom style? Tell us in the comments!
DXV by American Standard is a 150-year anthology of great design. Click here to find the nearest showroom.