4D Printing Exists, and Objects Can Change Over Time
We independently select these products—if you buy from one of our links, we may earn a commission. All prices were accurate at the time of publishing.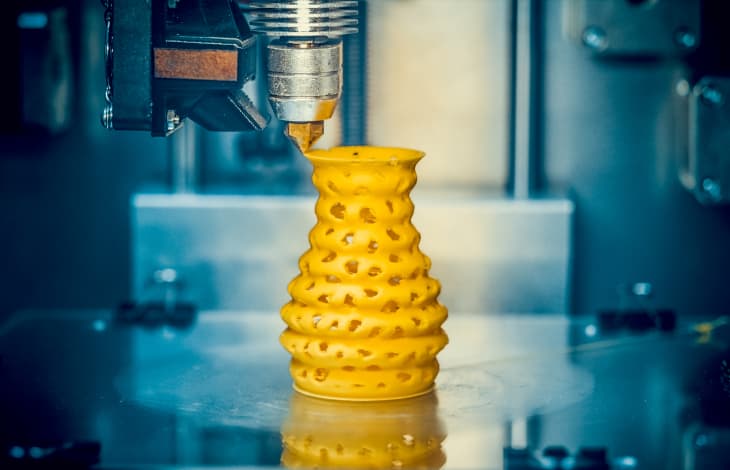 Despite the fact that many don't quite understand how 3D printing works, the process has already evolved into another dimension. 4D printing is a new offshoot that takes 3D printing and adds the element of time to the equation.
3D printing, in short, is the process of "printing" objects using filament rather than ink. Models must first be constructed in a computer program before appearing in the real world and the printing process can sometimes take hours or days. But 3D-printing technology has become faster, more efficient, and more affordable so that businesses large and small can create items like interior decor pieces, replacement parts, or even entire homes.
Follow Topics for more like this
Follow for more stories like this
4D printing, however, adds a new element to the process with the fourth "D" allowing the printed object to change shape over time. This growth element will not only be worked into the printing process itself, but it will be made possible by the materials (like hydrogel or shape memory polymer, according to 3D printing company Sculpteo) that are used to print.
In theory, the materials will respond to environmental factors like heat, light, and pressure just as plants and flowers do in nature. Experiments with 4D printing materials show that these objects can "remember" their shape, but it's expected that 4D objects could also be able to change size after printing, allowing large objects to be printed on smaller printers.
This could come in handy for projects like self-assembling furniture, flexible water pipes that expand or contract depending on water pressure, or even medical stents that would only unfold when they recognize the part of the body they need to be in.
Those behind the burgeoning process believe there is opportunity for 4D printing to be an incredibly sustainable way of manufacturing items, as it's zero waste and has the potential to put natural and recycled materials to use.
4D printing sounds like something from the distant future, but in actuality, big strides are being made to make it a thing and it will likely become as popular as 3D printing is now much sooner than we think.