5 Hammock Hybrids for Extreme Relaxation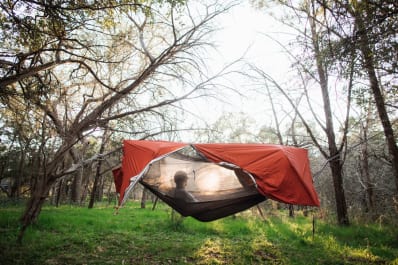 (Image credit: Kammok)
On their own, hammocks are pretty great. But some enterprising designers have taken the simple swing and merged it with other products to really up the relaxation factor. Check out five hammock hybrids that actually exist:
Hammock + Tent
Named after a flying squirrel, the Sunda (above) is a hammock/tent hybrid that lets you camp in the trees. On the ground, it's a 2+ person tent. It's also a hammock shelter (great for rocky terrain), or a regular hammock (the mesh hangs underneath).
(Image credit: MIT Institute of Design)
Hammock + Rocking Chair
MIT design students combined the lazy summer vibes of a hammock with the soothing nature of a rocking chair for the ultimate in chill.
(Image credit: Aqil Raharjo)
Hammock + Desk = Nap Pod
Inspired by long hours working at school, Schnap is a portable hammock that attaches to the underside of a desk so you can get some shut eye.
Hammock + Bathtub
From UK firm Splinter Works, Vessel is a carbon-fiber hammock-shaped bathtub fixture for those seriously committed to that #hammocklife.
(Image credit: Alexandra Knyazevoy)
Hammock + Lounge Chair
The Inchworm's pillow wraps around you like a hammock, but keeps you firmly on the ground.