5 Tips For Giving Kids the Color They Crave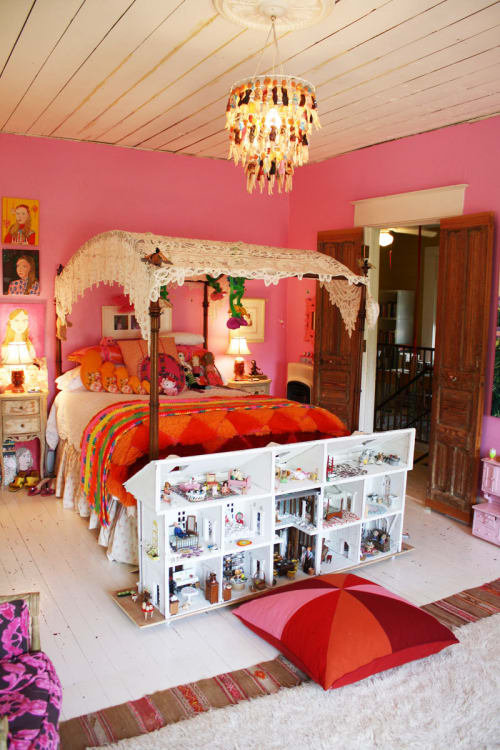 When I was a kid I was thrilled when my mom let my sister and I choose what colors we wanted to paint our rooms. I chose pink, my sister purple. But when she came home from the paint store, the colors were the palest pastel versions she could find - hardly what we had in mind. Now I know that there's a reason she didn't hand us a fan deck.
If you ask your child to choose a paint color for their own room, you'll usually end up with something bright, bold, and highly saturated. It's no secret that kids love color. So how do you give them the color they crave without having to wear sunglasses every time you enter the room? You could go my mom's route, or you could follow the tips from these color experts:
1. Sounds counterintuitive, but paint the walls white. Stylist and designer Emily Henderson says, "I either bring in color on the walls OR in the furniture/accessories, but rarely both." Naturally a lot of kids' decor tends to be colorful, so by painting the walls white it frees you up to go crazy with color with virtually everything else in the room.

2. Balance out bright colors by adding in neutrals. According to Mark Wynsma, whose West Village home is filled with bold hues, you should keep your space to three colors maximum. "If you are going with two bold colors, the third should be a neutral to give your eye a break."

3. Use bright hues in small doses. A splash of neon orange in the form of a throw pillow or a punchy apple green rug on the floor can go a long way. To quote Simona Ganea of Homedit, "Kids love strong colors but, of course, this doesn't mean you can use them excessively or without a sense for style."

4. Use a more subdued version of the color. This doesn't mean you have to (ahem mom) go pastel. Just choose a muddier or more grayed-down swatch of the color your child chooses. Color expert Maria Killam says, "It has always been my opinion that kids should have the colour they want in their room, but within a reasonable intensity! Not the screaming yellow or lime green they are currently waving at you, but a toned down version of that."

5. Try an accent wall. According to our own Carrie McBride, "Accent walls are a smart way to bring color into a room without the same level of commitment as going "all in"." If you're feeling nervous about that "Purple Passion" paint swatch your kid is insisting on, this is a safer route than painting the entire space, and can easily be painted over in the future.
So there you have it. What tips do you have for giving your kids the color they crave without going crazytown?
P.S. Mom, if you're reading - this is the pink I had in mind (see above images). Love you!
(Images: 1. Adrienne Breaux/Elizabeth's Colorful and Adventurous House 2. reader Anne/Colette's Cheerful Nursery 3. 3. Brandon Kidd / Sienna's Graphic Girly Nursery 4. Marie-Laure Bouwens on Apartment Therapy 5. reader Heather/Iris's Warm Whimsical Space 6. Keren Fathi-Poor on Apartment Therapy)