5 Ways to Create a Backyard Getaway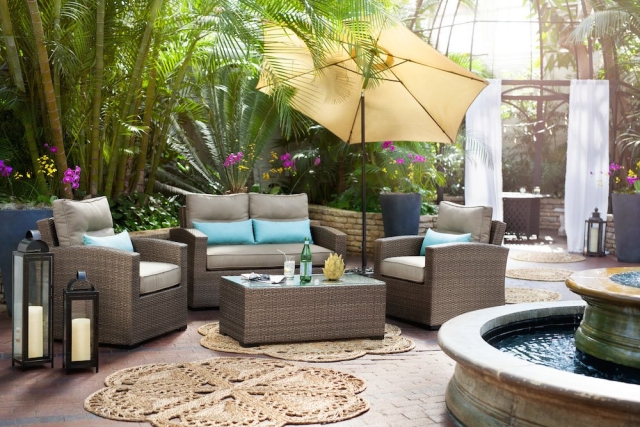 (Image credit: Value City)
The good news: It's finally, FINALLY patio season. The only problem: Our deck chairs are draped with cobwebs, and that rickety cafe table probably won't survive the first summer thunderstorm. As much as we love being outside this time of year, it's easy to forget that our outdoor space is really an extension of our home — another room where we can have fun with color, fabric and furniture. Consider these tips your reminder:
Make space to relax
Think of your patio like an outdoor living room: Like its indoor counterpart, your patio should feature your favorite creature comforts, like plush pillows, lightweight throws and fragrant candles.
(Image credit: Value City)
Use layers
Layering is a trick you rely on inside to add visual texture, and it has just as much impact out here: Add a simple canopy or create a "wall" of planters along the back of the patio to give the space depth and create a soothing edge (especially handy if your patio is thisclose to your neighbor's).
Keep it simple
Natural materials like gravel and stone lend a peaceful tranquility. Consider updating your pathways or "growing" a small rock garden. (They're way easier than the green variety, after all.)
(Image credit: Value City)
Coordinate colors
Inside, you use paint; outside, you use nature. A bright purple patio umbrella could pick up the hue of your lavender plants, and golden table accents could pull out the yellow tones of stone and planters.
Create fun shapes
Why stop where the pavement ends? Placing some furniture on the grass integrates the lawn into the patio area and creates a spacious feel.
Ready to create your perfect outdoor sanctuary? Check out Value City Furniture's new Retreat Collection!