5 Ways to Keep Yourself Warm at Home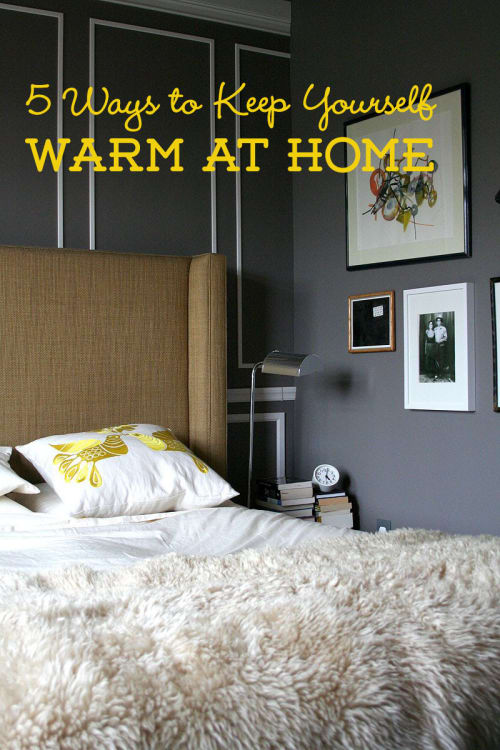 As the cold slowly starts settling in, it also starts seeping in — I find places in my home that are extra chilly and not quite as cozy as I want them to be. Here are five easy ways to combat the chill as our days grow shorter.
1. Change out the drapes. This isn't really an option for me to do in every room, but my bedroom currently has white, light, flimsy fabric covering my window. I've got some thicker fabric tucked away in my stores — I'll use simple curtain clips to attach it to my current rod. During the day, I can sweep them to the side, but when it's really really cold — and at night — I can pull them across my windows and help add another layer of insulation. Here's some super-cozy peacock blue velvet from Green Apple Fabrics that I could picture clipping up in my bedroom!
2. Stop drafty doors and windows. Does it feel like you've got an air conditioning vent underneath one of your doors or in one of your windows? I discovered a pretty strong current of freezing cold air blasting in from under a door last season and stopping that draft did wonders! Especially if you live in an almost century old house like me… you just have drafts. Check out this discussion on draft stoppers that will get you started: Draft Stoppers: Affordable & DIY Resources on Apartment Therapy.
3. Speaking of windows; do you have storm windows? Close them! I know this is a no-brainer, but some years I forget! I have all my storm windows open for the mild fall season, and then wonder why it's so cold once the temperatures dip in November. Check and double check that all your storm windows are closed tightly. For more window insulation tips, here are 5 Ways to Insulate Your Windows for Winter on Apartment Therapy.
4. Add some rugs to bare floors. Our bedroom floor is bare wood, and there's nothing more shocking than placing your still-toasty-from-bed bare feet on the freezing cold floor. I've got some old shag rugs in storage I'm going to roll out for the winter season, and the first patch of bare floor I'm tackling is the spot where my feet go in the morning! No extra rugs laying around? Here's a DIY Latch Hook Rug tutorial from A Beautiful Mess.
5. Buy some fingerless gloves. Maybe it's just because I work at the computer a lot, but I can't seem to keep my hands warm, even during the middle of the day. I can be wrapped in a quilt, with slippers on, and my hands will still be stiff and slow from the cold. Enter a cold-handed computer lover's best friend — the fingerless glove. Here's a black cashmere(!) pair for $29 from Talis Studio on Etsy. Between these and an endless pot of tea, I'm all set to work in comfort through the winter!
- Originally published 11/20/2012 - DF
Apartment Therapy supports our readers with carefully chosen product recommendations to improve life at home. You support us through our independently chosen links, many of which earn us a commission.