5 Ways to Make a Large Space Feel Cozy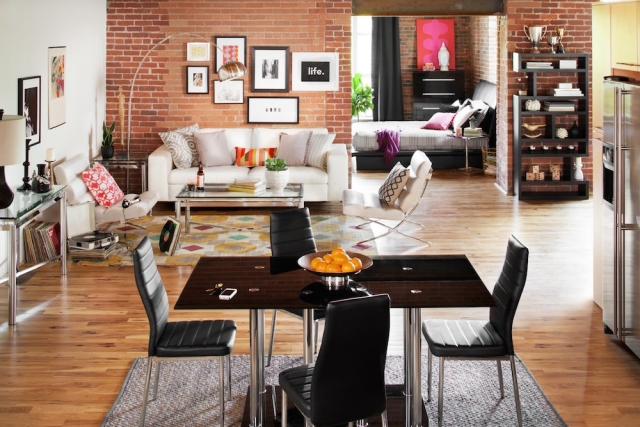 (Image credit: Value City Furniture)
Like having too much fun or too many pretty dresses, having too much space isn't really a problem that garners sympathy. But being #blessed with loft-style layouts and cartwheel-friendly living spaces does present some tricky questions: How do I make a big, open room feel cozy? Should I arrange all the furniture in the center? Is there an echo in here? Don't worry — we've got a few ideas for how to make the most of your expansive square footage.
Go with the flow. Walls are bossy, dividing spaces into specific purposes. No walls = no rules. So think about how you want to use your room, then do you. Sewing station in the living room? Sure. Dining room-slash-turntable-HQ off the kitchen? Sounds like the perfect dinner-party setup to us.
(Image credit: Value City Furniture)
Define boundaries. An open floor plan is an invitation to create several rooms — a nook with a comfy chair for listening to music, a cluster of seats for conversations — within a larger one. Exciting, but the effect can look hectic if you don't separate one nook from another: Area rugs will help subtly differentiate sections and unify the furniture and decor in each.
Find harmony. Remember what we just said about setting boundaries? Well, you still need to design with the entire space in mind to bring all those spots together: Also incorporate colors and patterns that complement the entire space. Classic palettes like black and white can be repeated in endless ways to create a color through line.
(Image credit: Value City Furniture)
Put it on display. Cabinets and shelving are another great way to divide a room without impeding the area-to-area flow. They make a space look organized and distinct, plus they offer another platform for showing off your personal style (which is flawless, of course).
(Image credit: Value City Furniture)
Work your furniture. You don't need to draw a chalk line around your dining area — use your dining chairs as a natural border. Ditto other large pieces like sofas and beds: Instead of pushing all the furniture against the walls, pull a few pieces out and use their prominent edges to define a space while keeping it inviting. Bonus: This also prevents that weird dead zone that can happen in big rooms.
Tell us in the comments about your favorite ways to fill a big space, and then find even more great pieces at Value City Furniture!