#7 – K/B's Madison Reflection
Name: K/B
Location: Chelsea, NYC
Size: 295 s/f Studio rental (old-law tenement)
Remove area rugs to expand and lighten small spaces.
Moving from Madison, WI on a tight budget, we wanted to reflect our roots in the context of small apartment design and more flexible, modern living in NYC. Caramel livingroom walls are accented by personal photographs of Madison and custom art commenting on the suburbanization of America ("Still Life with Plant, TV and PBR," "Cows With Holes," and "Six Flags Over Nothing"). [more below]

…A shot of bold espresso in the corner creates a reading nook and better separates the small space. The supercharged rust of the bedroom bridges the livingroom and kitchen, painted a Venetian red.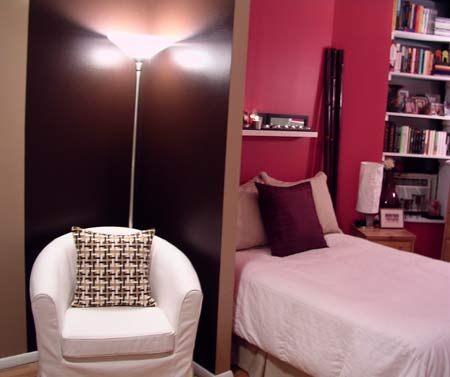 The quiet patio outside and the nature motif throughout serve to recreate and update the Madison lakeside feel right here in Chelsea. Maximizing flexibility and space, the coffee table cubes double as storage and seating for entertaining, an "il-LUMEN-ated" shelf replaces a bulky headboard, and a viewless window becomes a bookcase.
Finally, the built-in lofted bed was removed to enhance vertical space while allowing easier access
to closets housing a hidden washer/dryer and overhead storage.
Published: Mar 8, 2006