7 Ways To Watch Live Sports Without Cable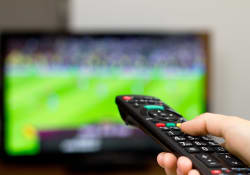 Although my family and I long dropped the landline as soon as we each switched to a cell phone, we still have cable. And I would have cut the cable cord years ago, except it would mean losing access to live sports broadcasts. Almost everything you see on TV today is available online, except sports...
I don't know enough about the politics of cable networks, sports leagues and franchises to explain why sports continues to be the Achilles' heel of online programming content. But I do know from frustrating personal experience live sports is the most difficult content to find online. And it's also the most difficult entertainment for sports fans to let go of when they're cutting the cord.
It doesn't help that sports programming is subject to regional broadcast blackouts, meaning local market games are not usually available online as an alternative. But I've discovered there are a few ways to watch live games by turning to online alternatives:

Aereo
Aereo offers viewers access to basic network TV channels—ABC, Fox, NBC and CBS—which means every nationally broadcast NFL game (minus ESPN's Monday Night Football), plus select MLB, NCAA and NBA games can be enjoyed on the computer or mobile device. If you're cutting the cord completely (no cable and no digital antenna), a service like Aereo will allow streaming access to the major networks onto desktop, tablet, smartphone, AppleTV, and Roku. The catch is at this moment the service is only available in New York, Boston and Atlanta, with plans for future expansion.
WatchESPN & ESPN3
Despite being the biggest name in sports media, ESPN's live online streaming isn't available to everyone. If you have ESPN as part of a TV subscription, you can access live games, events and ESPN shows online, but that's not really helpful to cord cutters. However, access to ESPN's online channel, ESPN3, is available to users subscribed with participating internet providers (see the list here). You won't likely get to watch in-demand NBA games and similar high viewership broadcasts, but you can usually catch coverage of college sports and less-popular sports (at least in America) like Major League Soccer and cricket.
NFL Game Access
Pro football fans have it the toughest. NFL Game Access is definitely the weakest of the four major leagues' streaming services. There is currently no way to watch live games online at all, for any price. For $30 per season, NFL Game Access' Audio Pass offers live game audio-only broadcasts from a computer or mobile device, and for $70, Game Rewind gives access to the full HD broadcast after it airs.
NFL Sunday Ticket
DirectTV has a stellar NFL package for pigskin fans, and you can get it even without a cable/satellite TV subscription. If DirectTV isn't an option for your home due to line of sight issues or any other reason, you can sign up for an online-only NFL Sunday Ticket Max package. For around $250, access to every live Sunday NFL game is available via the computer, tablet or smartphone. For what it's worth, a Consumerist reader noted, "My landlord won't allow me to install a dish" counts as a restriction.
MLB.TV
If NFL is the worst league for cord-cutting sports fans, Major League Baseball is the best. MLB.TV Premium lets subscribers watch every major league baseball game from a computer, tablet, smartphone, or TV-connected device (including XBox 360, Playstation 3, and AppleTV) for $129.99 per year. Local market games are restricted, as usual, but this is a great option for baseball fans, especially for those living outside of their team's footprint who may not be able to watch the games otherwise.
NBA League Pass
You can stream live NBA basketball games to your computer, mobile device, or TV-connected device for around $180 per year (the subscription for the 2013/2014 season hasn't been made available yet). But be warned local market team blackouts on League Pass are common, making this an imperfect solution for NBA fans wanting to catch every game throughout the year.
NHL Game Center LIVE
Hockey fans can watch live broadcasts of every out-of-market game on smartphones, tablets, and some TV-connected devices throughout the entire season for about $80 per year, plus replays of in-market games available for view the next day. It's not a perfect solution for ice fans, but it's far more affordable than the other leagues' streaming passes.
Apartment Therapy supports our readers with carefully chosen product recommendations to improve life at home. You support us through our independently chosen links, many of which earn us a commission.