A Baby Bachelor Pad With A Bit Of Blue
We independently select these products—if you buy from one of our links, we may earn a commission. All prices were accurate at the time of publishing.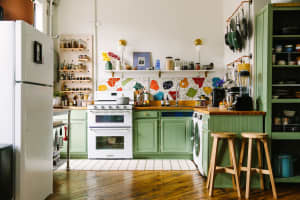 Can't-Miss House Tours Straight to Your Inbox
Keep up with our latest house tours each weekday with our House Tour of the Day newsletter
Name: Ike
Age: 18 months
Location: Austin, TX
Room Size: 180 sq ft. We're lucky to have very spacious bedrooms for a house built in the 60s. Too bad I can't say the same about our closets…
Follow Topics for more like this
Follow for more stories like this
A name like Ike commands a certain amount of presence. You picture a young man with sophisticated tastes ready to conquer the world. This room put together by his mother Erin is just that, a regal and elegant space to be a kid. It's thrifty, it's fun and that rug, oh that amazing rug! Ready to see more?
Nurseries are like recipes. Some come together in 30 minutes and although tasty, don't really satisfy with the same punch that say a long simmered stew does. This room is not unlike a giant pot of simmering stew as each piece has been lovingly tracked down, rounded up and gathered from all corners of Texas. Erin who is half of the fabulous team Design Crisis, takes thrifting to a whole new level and truly knows how to hold out for just the right piece at just the right price. This space is full of love, full of fun and full of tiny tot sophistication!
What was your inspiration for the room? We started out with a queen sized guest bed in Ike's nursery, and it only took us 18 months to realize no guest wanted to sleep with a snoring toddler. When we decided to redo his room, I really wanted to give him something mini masculine but fun — something he could grow into, but also something that would give him space to play. Instead of looking at nurseries for inspiration, I pulled from all kinds of rooms I liked, and that's when I realized I was obsessed with Persian rugs. Like, OCD obsessed.
What is your favorite element in the room? Tough choice! I really like the rug, the chandelier, and the rocker that has been trying to find an appropriate home for years. I think the thing I find most appealing is how everything blends together — not an easy
task with so many disparate elements. I credit the paint for pulling things together.
What was your biggest challenge? Picking a paint color! Thank goodness for my homeboy Sanders at my local Benjamin Moore store. After I tried about 15 different colors, he cut me off and picked the paint that's on the wall now.
What do your friends say about the room? My partner in decorating crime Karly was a party and adviser to many of the items purchased that ended up in this room, so I know she approves. I think everyone appreciates not having a giant bed as the focal point for a wee kid's room. My husband is just glad it's done.
What was your biggest indulgence? Time. I'm a thriftaholic, so I've been amassing stuff for years. Plus, I spent forever trolling Craigslist. I know a lot of parents are designing spaces to meet a deadline (like the arrival of a new little person), so I definitely consider time to be a luxury.
What advice would you give to someone designing a nursery for the first time? If you can, try to give yourself the time to let things evolve naturally. A space that is collected, as opposed to purchased on the fly, is more welcoming. Also, make sure you have plenty of storage. Kids are a mess! Who knew?
What is your dream source to shop? 1st Dibs, hands down. Just thinking about it makes me want to enter the lottery.
Paint: Wolf by Pratt and Lambert
Rug: Antique Heriz from Craigslist
Curtains: Ikea Aina
Chandelier: Vintage Italian, from the Round Top antiques fair, painted black with Valspar spraypaint.
Crib: Walmart Baby Mod
Chrome Rocker: Vintage Italian from Ebay
Dresser and Chest: Vintage Phyllis Morris from Craigslist
Shelving: Ikea Lack and Expedit
Kid's table and chairs: Ikea Kritter
Rocking horse: thrifted
Drummer boy painting: Round Top antiques fair
Giraffe head: Thrift score for $3.99!
Bear head: Thrifted gift from a friend
Sailboat painting above crib: Vintage 50s watercolor, thrifted
Art above rocker: etching by a college friend, Ikea frame
Corner shelf: thrifted and spraypainted black
Hand sconce: I traded Karly for this bad boy, but he came from the thrift store. I taped and spraypainted the top of the bulb gold so the light wouldn't blind anyone.
Ottoman: thrifted
Gold pillows: TJ Maxx
Wicker baskets: World Market
Miscellaneous art: Jenny Odell and William Wegman, from 20×200 (Ikea frames)
Miscellaneous toys: The Zid Zid metallic stuffed toys were a gift from my friend Raina, many of the soft toys were handmade by friends and family, and the wooden toys are largely Melissa and Doug. There might be some more toys hidden in the closet, too… You gotta love storage.
Interested in sharing your child's room with Ohdeedoh? Contact the editors through our Nursery & Kids Room Submission Form. In addition to working with some readers to feature full tours, we will also share the best as "My Room" posts on Ohdeedoh — short, quick tours of great rooms.