Claire Elizabeth's Cozy Nursery in a Contemporary Loft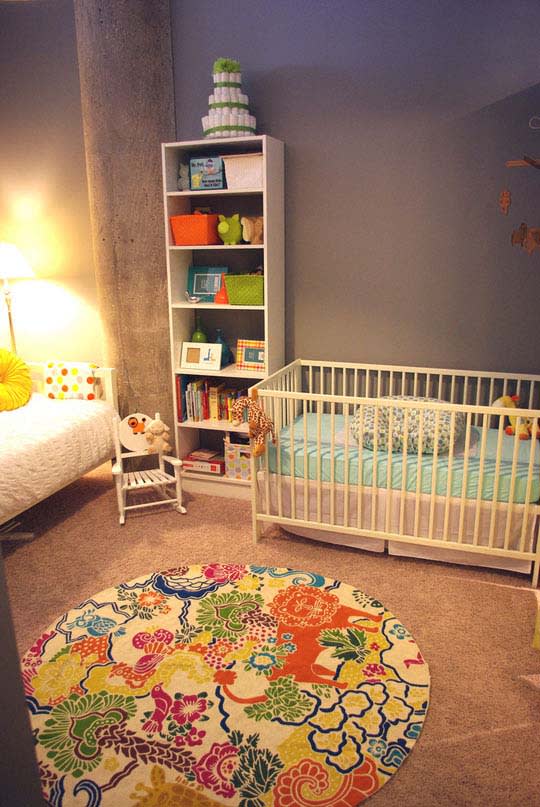 Name: Claire Elizabeth
Age: 2 months
Location: Chicago, IL
Room size: 150 sq ft
Exposed ductwork, concrete, and 16 ft ceilings aren't the architectural elements that immediately come to mind when envisioning a cozy space for a newborn. But unless you peek just outside the boundaries of these soft grey walls, you might not notice that this sweet nursery is sitting in the middle of an industrial loft.
This charming space embodies so much of what we love at Ohdeedoh. It's bright. It's happy. And clearly homeowners and new parents, Stephanie and Dave, had to use a lot of creativity to make this warm nest in their modern, urban loft. With no doors or interior windows, they certainly had their work cut out for them, and since the space is visible from around the loft, they knew it needed to be sophisticated yet sweet. We think the neutral grey walls were a great choice to blend with the rest of the home, and the vibrant pops of color keep the nursery looking totally baby-friendly.

Clearly this is a unique room. We can see glimpses of amazing vaulted ceilings and exposed concrete and ductwork in the photos. Can you tell us a little bit more about the architecture of the space?
We live in a 2BR loft space with 16' ceilings and exposed concrete & ductwork. The space itself is contemporary in nature, but our style is quirky and comfortable as well. There are no bedroom doors and the walls do not meet the ceilings so it is a very open layout. Light comes in to each room from above, but there are no windows in the interior rooms, just a full wall of windows in the living room area, so it's important to keep our decor bright.

What was your inspiration in designing this nursery?
We wanted something gender-neutral since the sex of our baby was a surprise, and we really wanted to stay away from pastels to create a bright, modern room for our baby. The space for the nursery was formerly a guest bedroom & bath, and we didn't want to lose the ability to host our out-of-town family and friends completely. Thus, we made sure to add in a daybed and to keep the room enjoyable and bright, for all ages (and genders).
What was your biggest challenge?
Probably choosing a wall color. Since the walls of each room can be seen from other parts of the home, no room stands alone in our loft. We wanted to make sure the nursery didn't stick out like a sore thumb in our space: vibrant yet sophisticated was the goal. The grey wall color ended up being neutral enough to not be distracting when viewed from the kitchen or the hallway, and was a good way to balance all the bright accessories.
On your blog you mentioned that you started off the process with a mood board. Did you find it helpful? Did you stick to your original ideas?
Yes, I found the mood board process very helpful. Especially when you aren't seeking out a tight theme like " trucks" or "butterflies". I started out saying that I wanted something bright like "aqua and orange", but once I started collecting ideas and pulling photos together I really expanded that initial color scheme. I realized how many other bright colors could work together once I put them to paper. In the end, I did stick pretty closely to my concept on the board once we executed the nursery.

What was your biggest indulgence in the room?
The anthropologie dream menagerie rug was probably our biggest splurge, since it cost about the same price as the crib & chest of drawers combined, but it really ended up being the focal point and inspiration for the rest of the decor. Finding the perfect rocker also antagonized me up until the very end. I was nervous to spend so much on our nurseryworks sleepytime rocker without actually testing it out first, but I can now say after falling asleep in it many a night over the last 7 weeks, that it was well worth the money. It manages to be stylish and comfortable.

What advice would you give new parents that are starting the nursery design process?
Don't be afraid of bright colors and follow your gut. Go in with a general concept, but not a "theme" and build from there. Also, when you collect items along the way it makes for a much more interesting, eclectic and special space as opposed to picking a theme-in-a-bag from one store or one designer. I think a successful nursery is appealing to children and adults alike and should have a bit of a story about how it all came together.
Resources
Furniture:
Overlapping-squares daybed from West Elm
Gulliver crib in white from Ikea
Hemnes 3 drawer chest from Ikea
Nurseryworks Sleepytime Rocker from Bobby Berk Home (free freight shipping!)
Tall White Bookcase from Target
Wall Book Bin from The Land of Nod
Accessories:
Abacus from cb2
Woven Veneer Pendant from West Elm
Dream Menagerie Rug from Anthropologie
Jungle Friends-Bamboo Mobile from petitcollage
Hand Quilted Velvet Pillow in Orange, Round Pintuck Pillow in Yellow, Velvet Ruffle Pillow in Green & Hand Quilted Velvet Pillow in Turquoise, from Urban Outfitters
Owl lantern in light blue from Urban Outfitters
Orange changing pad cover from The Land of Nod
Cutie Bear Print from Delicious Design League (found at a Renegade Craft Fair)
Zebra & Giraffe Print, from OrangeWillow
Illinois & Missouri Print from qadesign
Lime Green Ceramic Piglet Bank, from Crate & Barrel Outlet
Brightly colored shelf bins from The Land of Nod
Aqua Glass Zinnia Knobs from Anthropologie
And a Few Vintage Finds:
*Retro wicker changing table-circa 1981, mine from childhood. (Was brown, but my dad painted it white.)
*Aqua Mirror (found at the vintage bazaar)
*Green Lamp (found 5 years ago at a vintage shop on Belmont in Chicago. Shade was still being made!)
Grey Wall Color:
* Benjamin Moore Aura AF-700 "Storm"
Thank you, Stephanie! Please check out more gorgeous photos at her blog, Kitsch Chicagoan, and while you're there, take a peek at the mood boards section for a huge dose of eye candy.
images: Kitsch Chicagoan
Apartment Therapy supports our readers with carefully chosen product recommendations to improve life at home. You support us through our independently chosen links, many of which earn us a commission.