A Calm, Pacific Northwest-Inspired Seattle Home
We independently select these products—if you buy from one of our links, we may earn a commission. All prices were accurate at the time of publishing.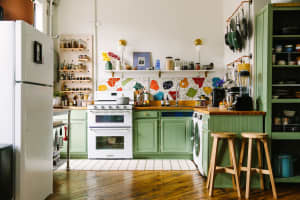 Can't-Miss House Tours Straight to Your Inbox
Keep up with our latest house tours each weekday with our House Tour of the Day newsletter
Name: Jason
Location: Fremont — Seattle, Washington
I live in a three-story, 1520-square foot town home in Seattle's Fremont neighborhood. I bought the house a little over two years ago after leaving Washington, DC to start a new job at Amazon.
I fell in love with the house right away. Built in 2009, it was one of the first LEED Platinum developments in Seattle, complete with a rainwater recycling system and other green building elements. It also had a great aesthetic—the layout was different from other town homes I had seen, with architectural elements that evoked both European and Asian influences, plus a killer rooftop deck with views of Lake Union, Mount Rainier, and the downtown skyline. It was a private oasis in an urban setting, human-scaled but big enough for parties, and it made me excited about putting down roots in my new home.
This was my first time living in a space larger than 600 square feet, and also my first time decorating as a homeowner, so I was beyond excited to create a space that felt true to me and the location. I immediately repainted all interior surfaces using a color palette inspired by the stony beaches of the Puget Sound—lots of grays and browns for sure, but also rich, muted primary colors. I didn't touch the existing bamboo floors and wood trim because I wanted that warmth to balance the cool walls. Into that setting I introduced my books and the artwork, textiles, and objects I'd collected while living and traveling abroad. I love pattern, texture and color, but I hate clutter—the clean lines of the house and rigorous editing ensure the overall effect is calming, not chaotic. The furniture has come more gradually; some pieces are new, some vintage, and each one was chosen with great (some might say obsessive) care for how it would contribute to the function and aesthetic of the room. I think of my style as tailored and generally understated, but with controlled exuberance in the details.
I've found inspiration in a few places. First, my mother—her keen eye and exacting attention to detail have inspired me since childhood. Second, world travel—it helps me learn how others find/create beauty and order in the world around them. Third, where I live—the climate of the Pacific Northwest suggested a mood and palette that I might not have chosen if I lived, say, in Los Angeles or New York.
I don't think I really have a favorite room, but I do have a soft spot for my master bedroom. There's nothing better than reading in bed at night surrounded by those deep blue walls with lamplight glinting off the sequined Moroccan bedspread—it's like my own starry night, even when it's cloudy and raining outside. Plus, the story of how I got to that wall color was a fun lesson in trusting my instinct: I had originally wanted dark blue for the master bedroom but felt it was too risky for such an "important" room. Instead, I went with a very safe (soothing, I called it) grey color and put a more adventurous color in the guest bedroom. During the housewarming party my guests raved about the guest bedroom but said nothing at all about the master bedroom. Feeling intensely competitive on behalf of my master bedroom, I called my painter the next day and had him redo the room in the color I had been drawn to from the beginning.
Almost everything in my house has a story—for example, the blue-and-white porcelain rabbit bank given to me in kindergarten by an elderly neighbor lady who wanted me to save for my future, the now-decorative orange that I accidentally dried on the top shelf of my locker in high school, the shamrock plant that belonged to my grandmother and is older than I am. These stories transform things into memories and make the house feel like home.
I'm most proud of how useful and comfortable the house is for how I want to live in it. More than just a pretty showcase, the house is the real-life setting for my daily life, for extended visits from friends and family, for intimate dinner parties and rooftop barbecues, and of course the annual Christmas open-house for 80 of my best friends and co-workers….