A Design Lover's Guide to Palm Springs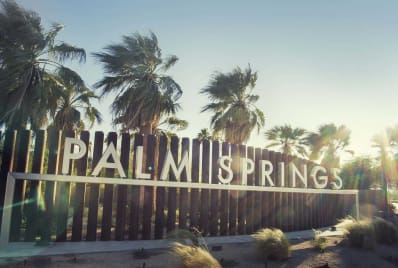 A desert oasis that seems pulled straight out of a midcentury lover's dream, Palm Springs is a treasure trove of vintage shops, landmark design, and brunch spots with menu options including bacon flights and house Bloody Marys. Whether you choose to relax by the pool at the Parker or the Ace, there are plenty of options to suit any design lover.
See:
• Aerial Tramway: Take the Aerial tramway up Chino Canyon for sweeping views of the desert landscape that you can't find anywhere else.
• The Walk of Stars: This path is paved with stars honoring the many celebrities that have lived in and visited Palm Springs.
• Toucan's Tiki Lounge: Visit on a Sunday night and take in their famous drag show.
Tour:
• Sunnylands: Recently opened to the public, this modernist estate designed by A. Quincy Jones is filled with midcentury style buildings and statement features, including a pink pyramid roof. The residences also boast an extensive art collection, including Picasso and Bertoia, left on display for visitors.
• Frey House II: With shuttle tours offered by the Palm Springs museum, the Frey House, the onetime residence of architect Albert Frey, is a study in indoor/outdoor architecture, melding with the desert in a way that makes it appear to be an extension of the landscape, an outcropping of glass and steel among the rocks.
•Living Desert Zoo and Botanical Garden: Devoted to the unique desert ecosystem, the Living Desert Zoo is unlike any other. An added bonus is the Palo Verde Garden Center inside, with its extensive collection of native plants for sale.
Shop:
• Uptown Design District: Encompassing just a few blocks, the Uptown Design District is home to well curated vintage shops, local brunch hotspots, boutiques, and the colorful Trina Turk outpost.
• Room Service: This LA based store is the epitome of Palm Springs modern. Pick up custom furniture or bring home the aesthetic with modern artwork, ceramics or a graphic pillow.
• Sunny Dunes Antique Mall: Comprised of 40 individual shops, this labyrinth of rooms requires some time and effort to navigate, but is a great place to go for unique finds at reasonable prices.
Eat:
• Cheeky's: A virtual mecca for brunch, Cheeky's serves up flights of bacon and house infused Bloody Marys alongside their sweet and savory offerings.
• Hamburger Mary's: With tongue in cheek décor and oversized burgers, Hamburger Mary's is a great spot to fill a craving after a long day.
• Workshop Palm Springs: Appeasing tourists and locals alike, Workshop's industrial modern look was designed by SOMA. The menu is based around local, seasonal products, so it's constantly being reinvented.
Stay:
• Ace Hotel and Swim Club: With their self described "organic bohemian" decor, the Ace hits desert style on the head. Midcentury pieces stand out amongst worn in kilns and the odd rope sculpture. You can also beat the desert heat and lounge poolside in hammocks.
• Parker Palm Springs: Designed by Jonathan Adler, the Parker brings his signature happy chic style to the desert.
• The Saguaro: With a punchy palette of colors inspired by desert wildflowers, newcomer the Saguaro is quickly making a name for itself amongst the boutique hotels.
(Images: 1. Shutterstock 2. Wiki Creative Commons, 3. Architectural Digest , 4. Image "Poolside" available at Room Service, 5. Workshop, 6. Saguaro)