A Lush & Luxurious Garden in London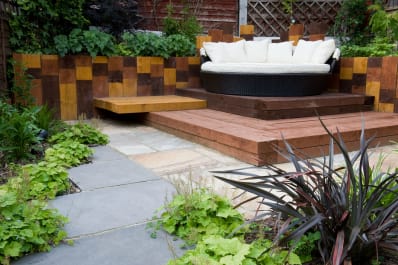 (Image credit: Submitted by Katrina)
Name: Katrina
Location: London, UK
The garden was split into three distinct areas with separate purposes in mind. The first section, adjoining the house, featured a patio laid with mint fossil sandstone in a random pattern. To the right hand side of the patio is a seating/dining area featuring a railway sleeper table and chairs, plus a railway sleeper bench backed by an orange painted wedge-shaped rendered raised bed. This seating area was framed by a feature wall constructed from upright railway sleepers stained with three different block colors. Large black slate slabs lead down the sideway to the door at the end.
(Image credit: Submitted by Katrina)
A single railway sleeper step, running diagonally across the space, leads to the central section of the garden. This section is constructed on a diagonal to the garden side boundaries and features a timber pergola adorned with colored aluminum chain curtains to create an enclosed, semi-private space. A trio of tall tapered planters containing architectural box balls were placed along the edge of the railway sleeper step, to the left of the pergola, to further screen the rest of the garden from the area adjoining the house. Flooring beneath the pergola features Angelim hardwood decking constructed in a diamond pattern. This area also benefits from bike storage installed in a planting bed to the right of the pergola.
(Image credit: Submitted by Katrina)
A black slate path in staggered zigzag shape leads from the pergola down the garden to an area of Indian sandstone at the rear of the space. This sandstone paving borders a series of railway sleeper platforms of various heights, backed by a second vertical railway sleeper wall constructed to retain the existing raised planting section at the very back of the garden.
(Image credit: Submitted by Katrina)
(Image credit: Submitted by Katrina)
The planting scheme follows a black and white theme, including sambucas, phormiums and heuchera, with the occasional orange flora as an accent.
Thanks, Katrina!
• Interested in sharing your outdoor style with Apartment Therapy? Contact the editors through our Outdoor Space or Project Submission Form.