7 Horrifyingly Amazing Home Decor Items Discovered in the Depths of Amazon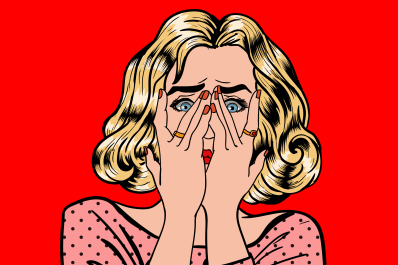 (Image credit: ivector/Shutterstock)
Hey there, interior design fans! We all know that there's some real great stuff on the Apartment Therapy site if you're trying to really jazz up your living space, but I'd like to walk you through a few of my personal design tips via the wonder that is Amazon shopping, the horrifyingly amazing finds unearthed in the marketplace's deep crevices and all that they can add to a home. Let's go (and prepare for a wild ride)!
First off, let's go in a bit of a weird direction. You want your house to be inviting, but what about guests you regret bringing in? Picture this: You're on your fifth date with someone and you invite them back to your place. It's going great until they start bringing up their horrible political opinions and disturbing thoughts on puppies ("They're the worst, right?") and you realize that you have to drive them out of your space as soon as possible.
Well, just sneak into your bathroom and put up this 50 Shades of Grey shower curtain and watch as your befuddled date stumbles out of your bathroom, muttering something about having to feed their cat or shave their head or whatever. Believe me, nothing kills the romance more than a giant plastic monument to a bad movie about a worse book about two terrible people in a god-awful relationship. Also their faces will be all wobbly and weird, so bonus body horror action! (BONUS ROUND: Accessorize with this gross mug and this bizarre outlet cover.)
Please note that at my place, I want to make my bathroom a comfortable place, especially for new visitors. As a way to be certain that they know they can make themselves at home, I have this giant GET NAKED decal on the wall, right beside the decal of the old lady using an inhaler. It's fun and I never have to worry about people spending too much time in the bathroom; they're always ready to come back downstairs, quick as can be!
If 50 Shades isn't your speed, how about you take a step up from your dorm room posters and get this Boondock Saints lamp shaped like a bunch of guns? Prove to your guests that you're still deeply attached to the late '90s/early 2000s by displaying it alongside this bust of George W. Bush in your living room and watch the Y2k memories just seep back in like water damage after a big storm. If you're still feeling really threatened by the modern world, also try to include some rustic themes, like this camo bed, this camo poop pillow, or this camo spatula.
For the health-conscious, a salt lamp can help make the air more ionized or reduce free radicals, or whatever it is that it does. This 200 lb. salt lamp with probably cure everything, or at least something, I don't know, I'm not into that stuff. I would, however, chip bits off of it to season my food, making it both practical and ridiculous (always a win-win for me)! I think it would look great on my kitchen countertops beside this deeply impractical cutting board shaped like Maryland and this "Vampire Wine Glass," which is great for those dinner parties that could be improved by awkward sucking noises.
In the living room, a theme can really help create a cohesive space. Marble, millennial pink and retro stylings are all overdone, so why not try something new, like a buttock theme? There are actually plenty of ways to really booty-fy your house, like these butt coasters or this "Samuri sexy ass bum giant wall art poster." I'm a real completionist, so I also spread the theme into my bathroom with this poster imploring my guests to wipe their bum, because people are disgusting and need reminding.
Whenever people come over to my house, the most important thing is that they find out within 14 seconds of entering which sports teams I'm into. That's why I purchased this Officially Licensed NHL Couch and this Florida Gators Tiffany Lamp. If my guests feel a bit weird about sitting on a couch for a team they don't support, then they can just grab a pillow and flop down on the floor like the animal they are. I just want my guests to feel welcome!
Finally, it's really all about the little touches in your home, which is why I like to spruce things up by quirk-ifying the lighting in my house, like this light switch cover where Marilyn's face is merely an afterthought, or the above corgi light that's apparently seen some horrible things, or this revolving NY Islanders light. Then at night, as I rest under the watchful eye of the Sun God and snuggle up under my terrifying horse blanket, smushing myself deep into Ed Sheeran's face, I can sleep well knowing that I finally have the house that I always wanted. Well, me and my cutout of Danny Devito.
Apartment Therapy supports our readers with carefully chosen product recommendations to improve life at home. You support us through our independently chosen links, many of which earn us a commission.