A Real Front Door: Does This Mean I Have to Start Wearing Pants?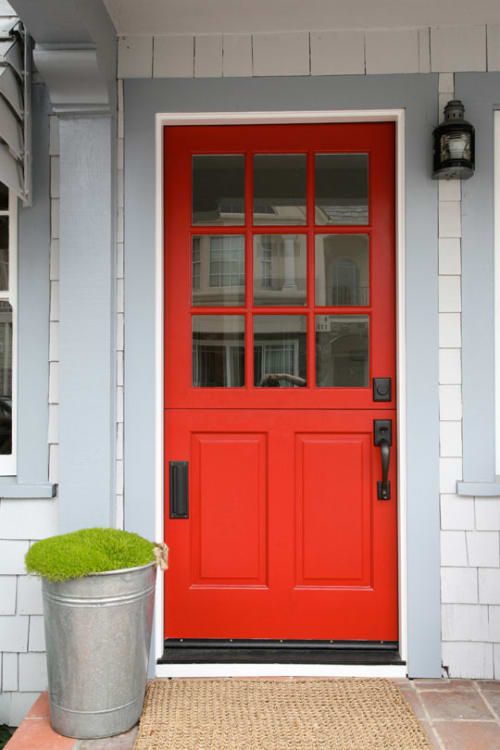 I just moved into my very first non-apartment home, and along with such perks as a hose, it has a rather dubious feature: a front door with window panels. I'd been here less than a week when I looked up from reading to see a friendly tree-trimmer knocking on the door, with a clear view of me in my underpants...
Oh, right, I thought to myself, people come to the door. Even though we have neighbors on all sides, it didn't really occur to me that anyone would approach the house, let alone be able to see into it. It's a house, for crying out loud! What could be more private?! As it turns out, it feels a lot less private than an apartment. Even if there weren't windows in the door, the entire living room and half of the kitchen would be in full view because I keep the front door open on all but the most sweltering days. I think nothing of walking past the see-through screen door after a shower to grab clothes out of the dryer, but I'm afraid I might have to change my ways. So far I've been visited by a neighborhood tyke raising money for wrestling ("Is your husband home?" "I don't have a husband — what can I do for you?"), a mailman with a delivery that required a signature, and door-to-door missionaries (I did not open the door).
A friend of mine had the same situation and installed a sheer film that let in light but maintained privacy, a must since she lived on a busy city street. I'm considering it, as it would make a world of difference, at least during the hottest and coldest times of year when we keep the door closed. If people can walk right up and see into your house, how do you handle it? Do you dress and conduct yourself as if you're in public, or do you figure that if people come to your door, they'll see what they see?
Apartment Therapy supports our readers with carefully chosen product recommendations to improve life at home. You support us through our independently chosen links, many of which earn us a commission.