A Set Designer's Almost Entirely Craigslist Apartment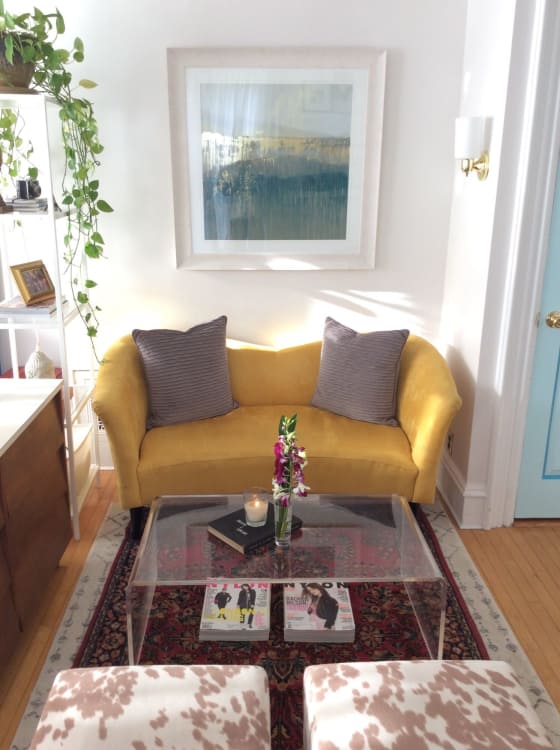 (Image credit: Submitted by Kenzie)
Name & Location: Kenzie — Boston, Massachusetts
My Favorite Room: Bedroom/Living Room
Specs: 250 square feet, rented
When it came to renting my own place after college, style always came first, budget second. So I took to the endless links of Craigslist to furnish most-to all-of my new place.
In studying theatrical set design, and to me, spacial challenges have always have been my strong suit. In one room I wanted a entertaining area, a work area, and a bed. Carving out those designated spots is easy to do with furniture, room dividers, or simply the physical features of the room.
(Image credit: Submitted by Kenzie)
Finding your items through Craigslist might save you money, but your biggest investment is your time. Between knowing what you want and actually finding it or its substitute; getting the seller to negotiate a price; scheduling the pick up; and finally executing the ordeal, there's a lot of your time that you might not have budgeted for. (Although, I'm a guilty of driving over an hour and a half for a $50 lucite table.) There's just some pieces that are not worth it, and others will haunt you in your sleep if you pass it up.
(Image credit: Submitted by Kenzie)
But the hard work instills not only pride in your collection, but a story for each find. Who you met, new towns you saw. Now your room is more like a curated gallery, and the white walls are a great canvas to let your objects shine.
(Image credit: Submitted by Kenzie)
The seating area is probably my favorite part this room. I'm a sucker for anything lucite. The finishes in the room just so happened to be brass when I moved in, so I carried it throughout. I wanted to make the rug the focal point here, and the lucite coffee table doesn't hide it. Although it doesn't hide my sister's collection of early 2000s Nylon magazines either (don't tell her). With Persian style rugs, the wide array of colors can really tie many pieces and styles together. Rugs, layered or not, make a space feel designed. Cow print ottomans enclose the seating area but not cut off the rest of the room.
(Image credit: Submitted by Kenzie)
At a local dump, I found these two matching mid-century dressers which they sold to me for $30 each. The dresser abuts my headboard and bed as a space saving solution, separating the sleeping and seating areas.
Thanks, Kenzie!