Baby G's Warm Eclectic Space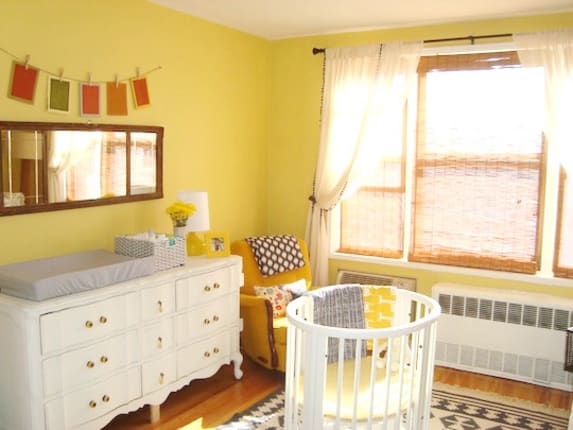 Name: Baby G
Location: Brooklyn, NY
We created this extra room by separating our long living room with built-in bookshelves and french glass doors. This half of the room started off being the guest room, but I knew I wanted to go ahead and gear it towards a baby room since I knew that time would come sooner than later. I saw a picture in Domino magazine years ago of a nursery that was navy, gold and ivory and it has stayed with me ever since. I thought it was so classic, gender neutral and not too babyish. I wanted the space to be something our child could grow into and not have to change it a million times over the years.
My favorite piece is the chest. It was my husband's grandparents' chest that we painted and added new knobs from Anthropologie. It provides so much room for storage and a great changing area. My other favorite piece is the vintage gold rocking chair. This was actually the first thing I bought to go in the room (before we even painted). I found it on Craigslist one day and just knew I had to have it. I feel like it created the whole vibe of the room.
The ABC's on the wall above the mirror were a great find at a garage sale. They were in a book about different types of lettering. I think I got the book for twenty-five cents. I just tore out each page that I liked and hung them up with twine and clothes pins.
The vintage poster of Books & Co. on the wall was another garage sale find for $1. I am a big book nerd and loved this right away. I had the framing done to go with the room. The mirror on the wall was found at Englishtown flea market for $3. The navy/white ikat rug was found at overstock.com. There is no overhead lighting in this room since we split our living room so I had to make use out of the natural light and lamps. Both lamps in the room are from West Elm.
Thanks, Kasey!
(Images: Kasey G.)