A (Temporary) Graphic Black and White Kitchen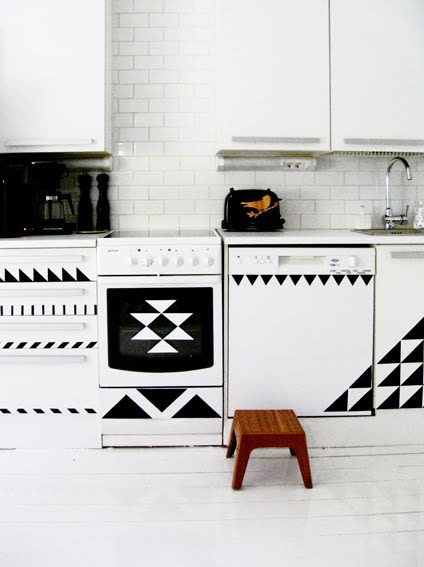 We recently came across this graphic black and white kitchen. Our initial reaction was that while it was a fun way to add some character to the space, we'd probably grow tired of it in a year or two. Well, Suki from the fabulous Finnish blog Varpunen (featured here in January) is one step ahead of us.
Suki wanted to update her basic kitchen, but with a move on the horizon she didn't want to do anything drastic. Inspired by her love of geometric patterns, Suki used tape (or stickers...the translation is a little rough) to create the design. So when her style changes or she makes that move, her kitchen update is easily removable. To see more images of Suki's kitchen, visit Varpunen: Ugh!
We think this is a great idea for rental kitchens or those that are commitment phobic. Has anyone used a similar method to update a room in your home?
(Image credits: Suki / Varpunen; found via {Black.White.Yellow})