A "Tex Mex-ish" Mix for a Girls' Room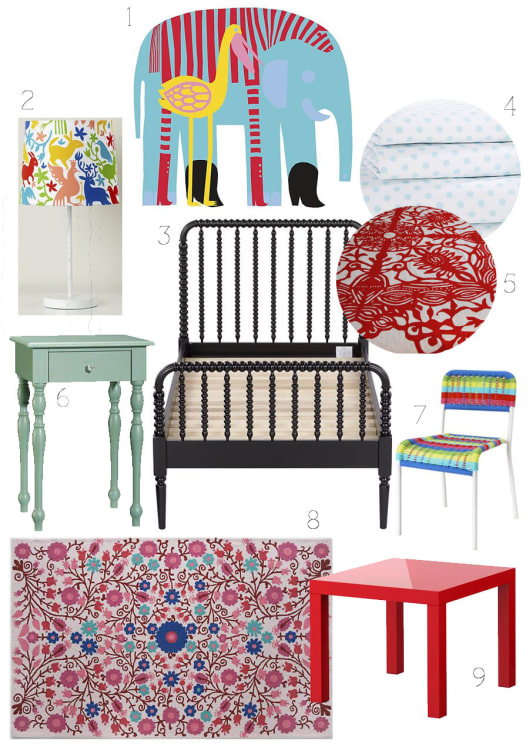 Today I'm re-invisioning my daughters' room with a slightly larger influence of the local culture we'll call "Tex Mex-ish." This room of readily available items would provide a nice backdrop for some smaller treasures at the local mercado.
1. Karkuteilla Wall Art, Crate & Barrel, $89. Before you say it, yes I know this is a classic Marimekko print from Scandinavia. But the colors and spirit blend perfectly.
2. Light Years Lamp Shade, Land of Nod, $25. An Otomi print somewhere is a must! While I covet those gorgeous Otomi print bedspreads, this lamp shade will have to do.
3. Jenny Lind Bed, Land of Nod, $599. You could go many directions with a bed, but I love how the black modernizes a traditional Jenny Lind without being too twee.
4. Mini Dot Sheet Set, Pottery Barn Kids, $59. Pops of aqua polka dots peak from underneath the bedspread.
5. Twin Bed Cover in Applique Butterfly by Gypsa, $98. This Utah-based Etsy shop makes handmade coverlets that more than fit the bill. Gorgeous!
6. Whitney Side Table, Pottery Barn Kids, $179. Every girl's room needs a charming nightstand.
7. Fargglad Chair, IKEA, $15. These Mexican influenced chairs from Ikea are as fun as they are practical. Use them outside in the summer, too.
8. Better Floors & Gardens Rug, Land of Nod, 4' x 6' $299. Tie it all together with a beautiful floral rug.
9. Lack Side Table in red, IKEA, $13. The sleek lines of a Lack table can't be beat.
(Images: as linked, composite: Elisabeth Wilborn)