A Look Inside a Young Woman's Super Cool Vintage Clothing Business
We independently select these products—if you buy from one of our links, we may earn a commission. All prices were accurate at the time of publishing.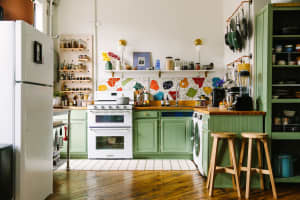 Can't-Miss House Tours Straight to Your Inbox
Keep up with our latest house tours each weekday with our House Tour of the Day newsletter
Name: Rosewood Clothing Co.
Location: 16 W. Broad St., Richmond, Virgina
Size: 900 square feet
Years lived in: Rented 2 years
With one visit to Rosewood Clothing Co.'s vintage insta-shop, founder Ashley Carruther's style is immediately enviable. Her ability to seek out old styles that have long been forgotten and revive their classic appeal has made her shop a big success over recent years — enough to turn what began as an online shop into a full-blown brick and mortar with a serene style that mirrors her lovely home.
Her aesthetic is simple, clean and practical. The light-filled space is utilized well with a lofted area at the back, floor-to-ceiling windows up front, a spiral staircase and incredibly high ceilings. Ashley's support of independent and RVA makers, and her dedication to second-hand earth-friendly vintage finds is an inspiration to the community. She is taking part in the revitalization of the Broad Street area, what used to be a big shopping district before the recession. Now she's leading the charge with other stores in the neighborhood (like Verdalina, Blue Bones, Quirk, Steady Sounds) and restaurants like Saison Market to bring it back to its former glory.
Ashley's vision and attention to detail have been the breath of fresh air that's rejuvenated this Broad Street retail space. Her collaborative nature turned the opening of her shop in 2014 into a community endeavor. Ashley has had help from many close, local friends to create her space. From installing shelves of reclaimed wood, to building display tables, to sourcing comfortable cushioned seats for clients to enjoy their time in the shop, this was a labor of love. Ashley wants people to "feel like they can stay awhile." She loves the connections that are created in the intimate atmosphere of her workspace. Being a curator and thrifter, much of Ashley's work process is completed away from Rosewood, combing flea markets and antique shops throughout Virginia and beyond. But Rosewood is where all the people and hard work come together.
Apartment Therapy Survey:
Inspiration: Georgia O'Keeffe + Frida Kahlo + my mother
Favorite Element: The natural lighting in the space is for sure my favorite element. It brings life to the store and keeps the plants alive! It was the selling point for me when we first looked inside. It was raining and cold out, but when we came in it was warm and well-lit even with the lights off.
Biggest Challenge: Keeping plants alive and tackling dust bunnies.
What Friends Say: My chairs are confessionals
Biggest Embarrassment: The jewelry case at the back of the store. It was built by my friend Luke who provided the wood for the build out and made the shelves (he did a great job!). We had the option of using a nicer glass for the top and sides, but I was being cheap after overindulging on the rest of the build out and decided to go with plexiglass. Because we put the store together so quickly, the wood didn't have enough time to settle after it was cut, so it warped and cracked the side glass, and the plexi looks scratched and sad. But a jewelry case renovation is coming soon! We're hoping to redo it in January.
Proudest DIY: The whole thing!!!
Biggest Indulgence: Definitely the build out. When we were looking for options for racks, I wanted it to be something warm and different. Other pipe options were much cheaper, but the copper is the perfect touch I was looking for. It's the little (but expensive!) details. Over time, adding things like shelves, the floating shelves and the tables became costly, but totally worth it! Next indulgence will be redoing the jewelry case.
Best Advice: No regrets! Just do it, give it your best shot!
Dream Sources: a warehouse full of vintage + all the money so I can buy all my dream lines
BUILD OUT
Copper racks, shelves, register top, floating racks, dressing room design — Sean Williams
Raw edge shelves, shelves, chandelier — Luke Swenson Humanitree
Floating shelves — Nick Ghobashi
Display tables — Noah Todras
Register bottom, register display shelves — Tobjorn Brumley Martin Star
FURNITURE
Cushioned seats — 68 Home
Floating window seat — Yesterday's Heroes
Benches, stools, purple wall hanging — thrift store finds
Thanks, Ashley & Rosewood Clothing Co!