AB Chao's Project: Fireplace Paint Job
You'll recognize our guest writer's name from her House Tour — and also probably from her work on TWoP. Will her post inspire you to tackle your own January Jumpstart Project?

We have lived in this house for over four years, and I have hated this fireplace for at least three of them. It's attractive enough, I suppose, but it's got at least four different colors going on, including a pale purple wash around the top edge up there. You can't see it, probably, but IT IS ALL I SEE. The only solution I can see is to paint that baby white. All of it.
Having painted approximately forty thousand household objects in my life, I know the first thing I need to do is gather my supplies:
Tears

I find all of these things lying around the house, although none of them are in the same place. So I'm ready to go, and get to work wiping the fireplace down with TSP. I run into Unforeseen Problem #1 right as I'm getting to the end: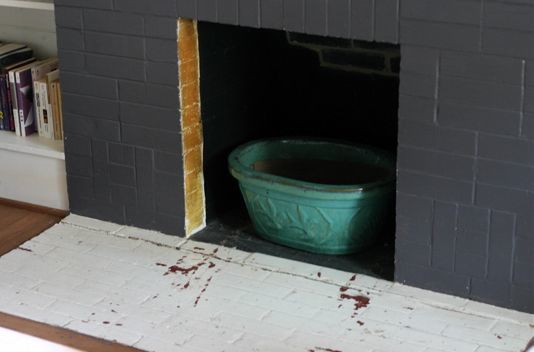 About half of the mortar here is broken and getting worse with every swipe of my towel. It will need to be replaced before I go on. Do I look like a mason? What to do?

Allow me to introduce you to my old friend Paintable Caulk.
The caulk claims that it'll be dry and ready to paint in two hours, so I get to work. Tip: Caulk is sticky. Wear latex gloves. I didn't, but you should.
While I'm waiting for the caulk to dry, I start priming the top and front of the fireplace surround. I use Kilz 2 Latex Primer, which dries in an hour and can be painted over with either water- or oil-based paint. Lucky, since all I have is oil-based.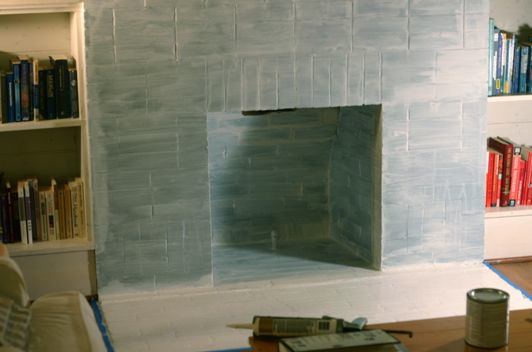 Caulked, taped, and primed.
Now I just have to wait until it's dry enough to paint. This is the point in the project where a reward is appropriate. I grab a beer and sit down to watch paint dry.
Time's up! Now it's oil paint time. Lots of people are scared of oil paint. Don't be: it's more durable, cleanable, and very shiny. Who doesn't love shiny? The trick is to work quickly and carry a big brush. I usually buy a two-pack of three-inch brushes; buy mid-range, something you won't be sad about throwing away. Oil paint is notoriously difficult to remove from brushes, and who are we kidding here? It's going in the trash the second we're done.
So I get the paint opened and poured into some small container. Tip: Don't overload the brush with paint and glop it all on — you want a thin, even coat, because you're going to wait a few hours and do it again.
To recap: Paint, paint, paint. Wait, wait, wait. Paint, paint, paint.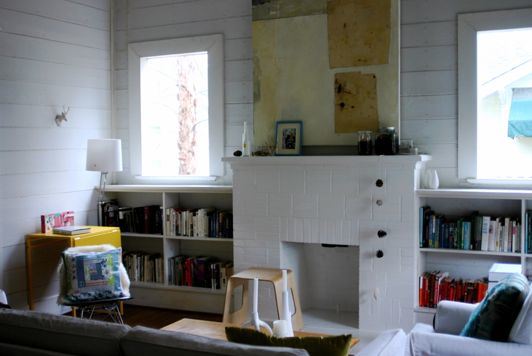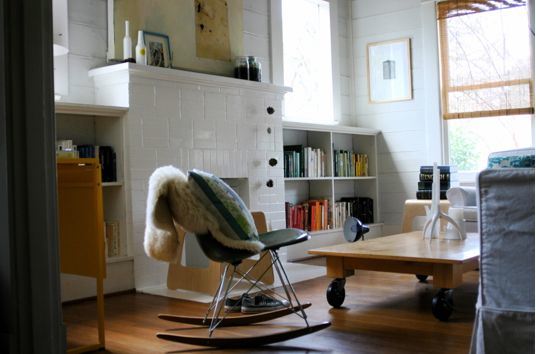 Voila! A new and improved fireplace, all spiffed up and ready for spring.

-ab chao
Published: Jan 16, 2008