Our Story
We
independently
select these products—if you buy from one of our links, we may earn a commission. All prices were accurate at the time of publishing.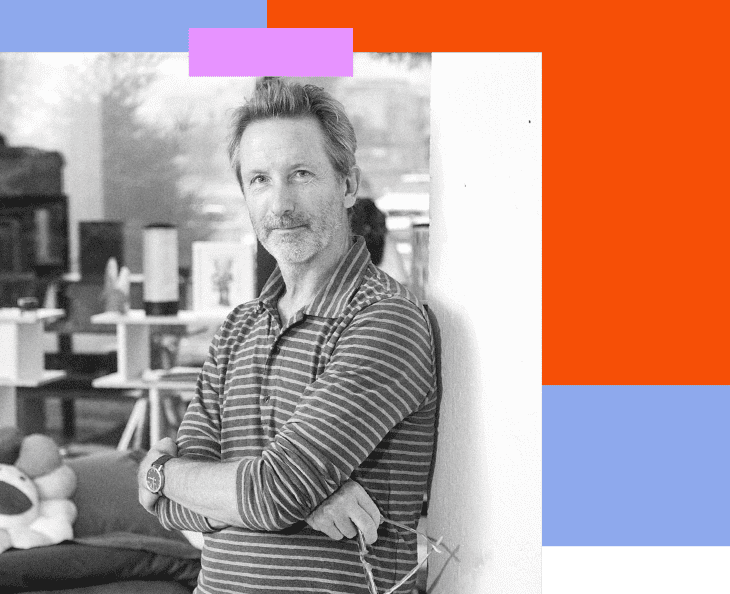 Apartment Therapy is dedicated to helping people transform their lives by providing inspiration, instruction, tools and connection to help people create beautiful, organized and healthy homes.

Launched in 2001 by interior designer Maxwell Ryan (nicknamed "the apartment therapist"), we started as a simple blog in an empty loft in Tribeca with the simple goal of sharing tips and resources that would help others transform their homes. Since then, we've remained committed to fostering community and providing approachable, affordable style and advice that benefits all of our readers. 

We go inside real homes every single day to pull the smartest, most attainable ideas and photos, and we believe creating a space you love is possible, no matter the project or the price point.
Apartment Therapy officially became an independently-owned media company in 2004 and serves as a top source for design inspiration, real-life solutions, and an inside look at how people live. In 2005, we launched The Kitchn to provide recipes, how-tos, and even more inspiration in one of our favorite rooms of the home. In 2020, we launched Cubby to help parents with ideas for life at home with kids, and in 2023 we launched Dorm Therapy to help college students feel at home at school
Apartment Therapy is a Webby Award winning brand that lives across multiple platforms, attracting a monthly global audience of 20MM.
Sources: Google Analytics, Sailthru, Facebook Business Manager, Curalate, Twitter Analytics, Pinterest Analytics, Flipboard, JW Player, Tiktok August 2023
Apartment Therapy is created by a nationally distributed editorial staff of passionate, experienced editors who are also dedicated homebodies. We cover house tours, home projects, organizing & cleaning, real estate, wellness, and home buying. We also host Bazaar, a peer-to-peer furniture and decor marketplace. Through a combination of expert advice, shopping guides, and how-to's, it's our mission to show how people are making their homes more beautiful with true-to-life tips for a range of budgets.
You can find our current jobs listings on our Careers page and we always welcome pitches and introductions. Our full pitching guidelines have all the instructions — including who to contact. We also welcome and invite readers to share their house tours and before and after projects. Real homes are the heartbeat of our brand: we'd love to see where and how you live!

The products we recommend are independently selected by our staff members, based on thorough testing or research; we may earn a commission through affiliate partnerships with retailers. Find out more about how we choose and evaluate products.
Sources: Google Analytics, Sailthru, Facebook Business Manager, Curalate, Twitter Analytics, Pinterest Analytics, Flipboard, JW Player, Tiktok January 2022
Maxwell left teaching in 2001 to start Apartment Therapy as a design business helping people to make their homes more beautiful, organized, AND healthy. The website started up in 2004 with the help of his brother, Oliver. Since then he has grown ApartmentTherapy.com, added TheKitchn.com, CubbyAtHome.com, DormTherapy.com, and has authored four books on design. He now lives with his daughter in a lovely apartment in Brooklyn.
Laura Schocker is an editor, writer, and homebody with more than a decade of experience in lifestyle and digital journalism. Before Apartment Therapy Media, she worked as the digital director at Real Simple and the executive healthy living editor at The Huffington Post. Laura is a three-time Webby winner and was chosen as one of Folio's Top Women in Media. She lives in NYC's Upper West Side with her husband, daughter, and two plants.
Kylie McConville is a digital editor and strategist with more than a decade's experience launching and building brands. Prior to joining Apartment Therapy, she was Vice President of Editorial Growth at BDG, Editor-in-Chief of Elite Daily, and a founding editor at Romper. She lives in Astoria, Queens with her boyfriend.
Riva Syrop spent 20+ years leading revenue and marketing strategy for digital brands including Earthweb, Wired, DailyCandy and Refinery29 prior to her current role at Apartment Therapy Media. As ATM's President Riva is honored to work with the most talented team in the business leading all incoming revenue divisions and activities.
Phil Vuong, CHIEF FINANCIAL OFFICER
Phil oversees Finance, Accounting, People Operations, Legal, and IT at Apartment Therapy Media. Over the past 12 years, he has held various finance and operations positions at Gallery Media Group, PureWow, and Gawker Media. He currently resides in New Jersey, enjoys spending time with his wife and 2 kids, and collecting sneakers and Lego.
Faith is SVP of Content at Apartment Therapy Media and the founding Editor-in-Chief of The Kitchn. She is also the founding editor of Cubby, our brand for families at home. She is the author of three cookbooks, including the James Beard Award-winning "The Kitchn Cookbook." In addition to food, Faith is passionate about renovation and gardening, and she lives with her husband and two school-aged daughters in an old home in Columbus, Ohio.
Eric Soll, CHIEF PRODUCT OFFICER
Eric brings over 20 years of product innovation, digital media leadership, and technology management to Apartment Therapy Media. He has renovated several homes and loves to cook, and he brings those passions to our brands. You might find him in Manhattan or on the water on the Great South Bay of Long Island.
Vijay Nathan, VP OF PRODUCT MANAGEMENT
As VP of Product Management, Vijay leads product development efforts across all 3 of the company's brands, covering site experiences, SEO, branded integrations, CMS, ad tech, email, and more. A former luxury event producer turned food tech entrepreneur, Vijay joined Apartment Therapy Media as its first dedicated Product Manager and has since helped scale product and engineering to become foundational parts of the company. Outside of work, Vijay is an avid home cook and "retired" DJ who lives in Philadelphia with his wife and 2 young sons.
Rebecca Longshore, VP OF AUDIENCE GROWTH
With over ten years of experience in digital media including Cooking Light, Real Simple, and MyRecipes, Rebecca is a seasoned strategist, content creator, and 3-time Webby Award Winner. As the head of our Audience Growth Department, Rebecca oversees the company's social media, SEO, newsletter marketing, and video departments. When she's not working, you can find her running around Central Park in New York City, where she lives with her husband, son, and golden retriever.
At Apartment Therapy Media, we know that no two homes or kitchens look the same and we celebrate those differences. By showcasing a diverse range of home dwellers and home cooks, we create an inclusive community for our audience, employees, and contributors.
Apartment Therapy Media
270 Lafayette Street, Ste 1300
New York, NY 10012
For general inquiries, please call us at 212-966-7174. For all other inquiries, please visit our Contact page.