Accessorizing a Workspace with Ergonomics in Mind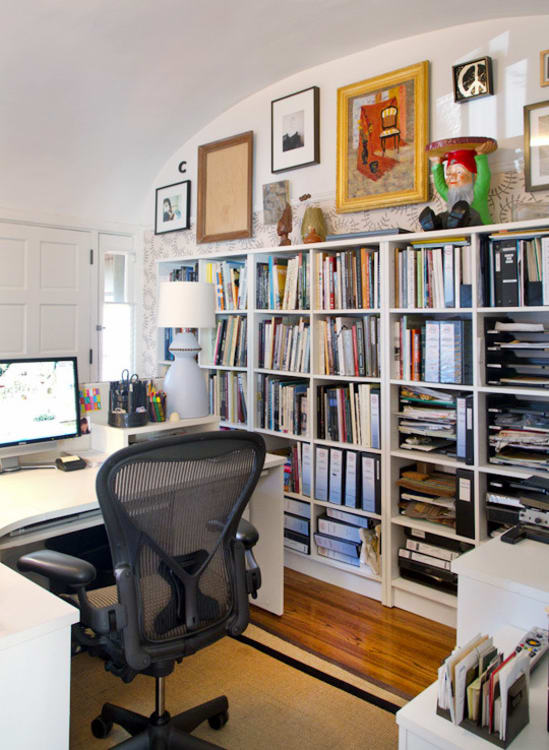 Whenever I'm stressed while working, I find myself sitting in an odd, bunched-up position, or crouched over my desk. Sitting with bad posture is definitely not ideal for anyone who works off at a computer 80% of the time. Here are a couple of elements I would use to create an ergonomic work space.
Wrist Cushion: This accessory is ergonomic, but a tad bit silly, so I would only wear this wrist cushion in the privacy of my own home office. However, my affinity for the cute, I had to add something playful and fun to this ergonomic roundup. Although admittedly I'd probably be willing to wear the moustache king one in public.

Sylki Chair: The Sylki Chair is a Brian Atwood design isn't a traditional ergonomic design. It's made from one sheet of recycled, perforated metal. The metal is molded into a supportive and upright shape that puts your body in a position of comfort. To reduce the heavy look of a metal chair, there are holes placed in a gradation pattern to soften the look.

Keyboard Tray: Oftentimes the height or position of my keyboard is either too high or too low or not positioned on the desk correctly so that I strain my wrists. This keyboard tray is supposed to alleviate that especially if you can't adjust the height of your monitor or table, you can adjust your keyboard at a comfortable height.

Keyboard and Mouse Bundle: The Goldtouch Keyboard adjusts from 0-30 degrees horizontally to 0-30 degrees vertically. This flexibility of the keyboard is supposed to alleviate the pressure on your joints, and the setup is bundled with a ergonomic-sculpted mouse. Placing our hand in this split position is supposed to be more natural, while the mouse's over-sized thumb cushion relieves tension.

Pebble Collection: I really like 3M's Pebble Collection, stationery dispensers for Scotch Tape and Post-it. Although not exactly physically ergonomic, as one doesn't hold their tape or note dispenser all day, I feel like these set the right relaxed setting for the desktop. Instead of the common square pads of post-its or tape dispensers, the round, pebble-like designs these desk essentials come in complete the zen vibe of a "visually ergonomic" setting.

(Images: At the Office With Tommy Chambers; other images as credited above)