Ace Hardware Just Bought a Majority Stake in The Grommet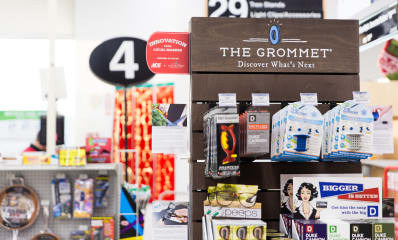 (Image credit: Courtesy The Grommet)
Ace is the place with the helpful hardware folks — and now, thanks to the acquisition of a majority stake in The Grommet, the independently owned neighborhood hardware stores are also the place to discover new small-batch goods, innovative tech, and American makers.
Since launching in 2008, The Grommet has become a major e-commerce player in the independent goods market — purchasing more than $57 million from small businesses. The platform originally partnered with Ace — whose network of 5,000 brick-and-mortar hardware stores are nearly all independently owned, Shop Local movement-participating franchises — starting with a November 2016 pilot program that placed displays of products from Grommet's independent makers in 250 Ace stores around the country. (Prior to the Ace partnership, The Grommet launched a wholesale division in 2014 for stores that wanted to carry goods from independent makers, after a successful debut at the White House Maker Faire.)
Only 3 percent of what The Grommet reviews actually makes it onto the "shelves" in their discovery-based marketplace of products sold through video storytelling and an email newsletter blast to 3.5 million customers — including now-household names like FitBit, IdeaPaint, OtterBox, SimpliSafe, and SodaStream.
"Both companies have a deep heritage of helping local businesses thrive so our values are uncannily compatible," said Jules Pieri, co-founder and CEO of The Grommet, in a press release. "And how fitting is it that our company is named after a humble piece of hardware? There is some destiny at work here."
Fans of both brands (based on Facebook and blog comments after the merger announcement) totally agree and consider the partnership a win-win, seemingly stoked about the in-store opportunities for shopping The Grommet's signature "Citizen Commerce" — curated selections of innovative products with a focus on sustainable living, American manufacturing, new technology and innovation, and handcrafted products.
"We both stand as strong advocates for the underdog. From the very beginning we have appreciated our alignment in support for and advancement of the independent maker," said John Venhuizen, president and CEO of Ace Hardware Corporation, in today's press release. "Under Ace's ownership, I believe The Grommet can offer our customers more of that which fuels global economies and makes America special — the unbridled creativity of the local entrepreneur."
The proof is in the pudding (and ability to shop by "personal values") after the successful pilot program, too: Current Grommet customers visit Ace 50 percent more often than the average Ace Rewards customer and they spend 2.8 times as much.
Future enhancements to the partnership could include the ability to purchase from The Grommet online and pick up at your local Ace Hardware, or use other Grommet Perks (like discounts and free shipping) in stores, as well as test-driving new and best-selling products before purchase, according to The Grommet blog.
Apartment Therapy supports our readers with carefully chosen product recommendations to improve life at home. You support us through our independently chosen links, many of which earn us a commission.