How TikTok's "Adaptive Approach" to Cleaning Totally Changed Me
We
independently
select these products—if you buy from one of our links, we may earn a commission. All prices were accurate at the time of publishing.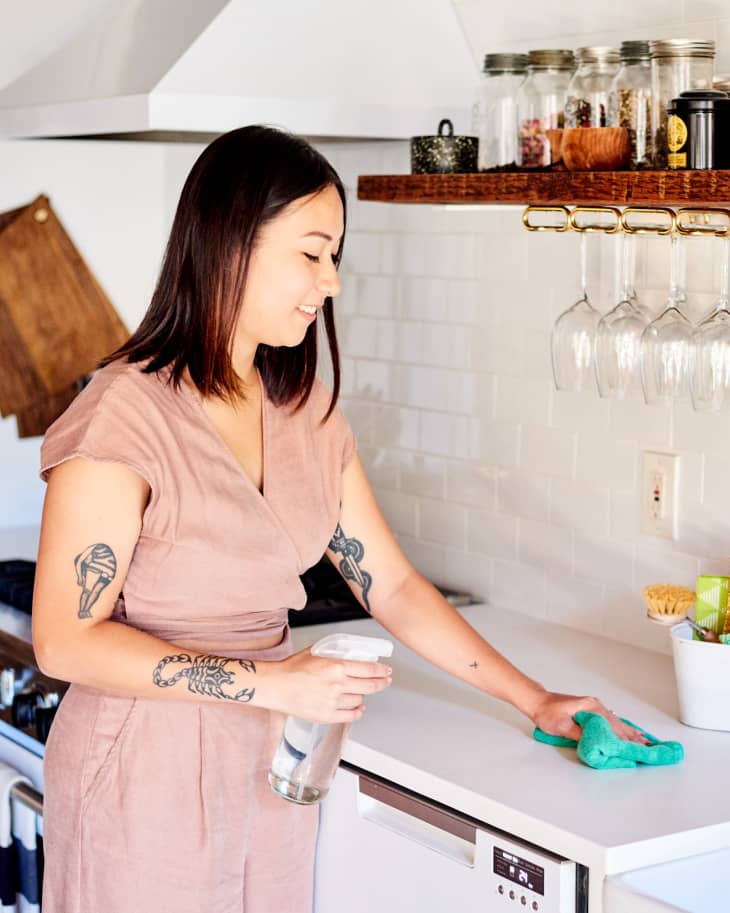 I'm a proud perfectionist. I genuinely like that part of my personality. But I also know that it has a dark side — the side that makes me feel like a failure if I don't check everything off of my 90-item spring cleaning list, or avoid cleaning entirely if I can't do it "right."
That's why I love TikToker Sarah McGlory's "adaptive approach" to cleaning. She looks at caring for home and self through a lens of dealing with chronic illness, ADHD, and mental health struggles — typically surrounding a lack of energy, time, and attention — and I've learned so much from the kind way she talks about domestic tasks. She has taken the pressure and stress out of basic housekeeping duties that might otherwise be overwhelming.
If I'm feeling down or giving myself a hard time, her cleaning videos provide a quick mood boost. Here are a few of the invaluable things her approach — which focuses on being flexible to your own schedule, bandwidth, and energy — has taught me this year.
Make the to-do list doable, not idealistic. 
McGlory talks a lot about flawed measuring systems. Inspired by her method, I changed my daily routine from everything I wanted to do, to everything I could actually do, given my current energy level and responsibilities. I now have the satisfaction of checking off every item, every day. It isn't too much, and it is (surprisingly) enough. Currently, I just have a list for my average energy level, but McGlory recommends having lists for low- and high-capacity days, too.
Remember, mess can be irritating, but it's *not* shameful. 
Another thing I love about McGlory's videos is how genuine they are. She organizes her under-the-sink cabinet while talking about all the real-life moments that moved it from organized to cluttered. As she resets the space to functional, she models kindness to herself, noting that she gave her energy to things like work, kids, and a big Costco haul. After spending her capacity in those realms, she didn't have the bandwidth to declutter that cabinet, and it wasn't the end of the world. She got to it eventually. (And even made a TikTok about it.) 
Deep cleaning can be done in small steps. 
Deep cleaning tasks — I'm looking at you, range — can feel overwhelming. If I'm at low capacity, McGlory tells me I can just skip it. At average capacity, I can clean the oven knobs and enjoy how shiny they are. At high capacity, I can do all the deep clean steps. No more wishful thinking, no more letting perfect be the enemy of the good — I just do what I can, when I can. 
Invest in making cleaning easier. 
McGlory also recommends gadgets and methods of "cleaning sorcery" — absolutely magical cleaning methods and tricks — because it's hard enough to get the ball rolling on cleaning. The active cleaning part should be as easy as possible, and there's nothing wrong with buying a smart tool that'll make the job easier.
I don't have to make the lists.
McGlory already did the heavy lifting. Her adaptive cleaning routines are available on TikTok, but I highly recommend buying her digital plans (starting at only $2) if you can, because it's honestly easier than taking a screenshot of each of the daily schedules in her feed. 
If you're not already one of McGlory's 920,000 followers, spring cleaning season is the perfect time to make her kindness a part of your scrolling routine.