Addison's White & Bright Charmer
We
independently
select these products—if you buy from one of our links, we may earn a commission. All prices were accurate at the time of publishing.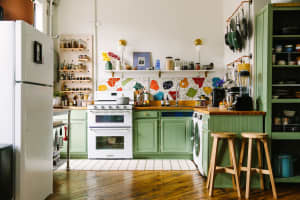 Can't-Miss House Tours Straight to Your Inbox
Keep up with our latest house tours each weekday with our House Tour of the Day newsletter
Name: Addison (5)
Location: Dallas, TX
Room Size: 12×14
There are so many things about Addison's room that I love – the bright, white color palette, pops of fun color, and the amazing marquee letter to name a few. But perhaps the most impressive thing is that her mom, Ginny, was able to create such a happy, vibrant, and personal space in their lovely rental home. It just goes to show that you don't necessarily need to make any big, permanent changes to create a one-of-a-kind space for your little one.
How would you describe the look and feel of this room?
My daughter is all about pink and sparkly, and I, on the other hand, am not. Although it is her room, I wanted to create a space that she could grow into for years to come. We compromised on the pink with a hot pink bed as a statement piece in the middle of the room, but mostly her room reflects her girly, happy, imaginative and playful spirit.
What is your favorite piece or element?
Hands down, the Mid Century Basset dresser. I scored it for a steal on Craigslist, but it wasn't in the best shape. I spent about a month sanding it down and re-staining it, but in the end I am very proud of the finished product.
What was the biggest challenge decorating this room?
Being renters, it is always challenging putting our mark on a house to make it feel more like home. Luckily, I am a creative at heart and I am always ready to tackle the next DIY project. I love thinking of ways to decorate that won't leave a permanent mark once we move onto our new home.
What does Addison have to say about her room?
"It is so beautiful. I love taking naps in my teepee, playing dress up and cooking food for my mom and dad! I love it so much!"
Do you have any advice for parents creating a room for their child?
I am all about creating a space that a child can grow into. Although most kids gravitate toward cartoon characters, that doesn't mean that you have to splash the entire room with said character. I like to start with a simple base and go from there, maybe incorporating that character with a throw pillow or poster (keep it simple). I also like to use various baskets around the room, both thrifted and new, to hold books, toys, stuffed animals and shoes. I am a big fan of baskets of all sorts, especially since they help hide clutter. They are the perfect solution for storage and they help to add another design element to a room! A wall full of books can also work double time as art too! Using books to add dimension and color to a room is a very cost effective option. Mostly, just BE CREATIVE!!!
If money were no object, what's your dream source?
I love the Land of Nod and Molly Meg (they have an amazing selection of vintage and modern children's furniture).
What tips do you have for renters who want to make their little one's room feel more personal?
It can be hard, especially if you have strict landlords who won't let you hang things on the walls, use nails or paint, but here are my tips:
1. Use washi tape. It comes in about every color and pattern and can be a fun way to display your child's artwork or your favorite photos of them. It won't damage the walls and can be changed frequently when new artwork is created. 2. Wall decals. They can add pattern to any bare wall and can easily be removed afterwards. No mess, no angry landlords. Plus, there are so many modern designs out there and most of the time they are very cost effective.
3. Fill the room with things your child loves to do. It might be playing dress up, reading books or racing their favorite cars and trucks. Whatever it is, take that and run with it. Make the books or cars a main focal point in their room by displaying them in a cool and unique way.
4. Most of all, use your imagination and be creative. As long as your child loves the room you created for them, then that is all that matters.
You have some great thrifted and Craigslist finds in Addison's room – what are your secrets for finding such great pieces?
It takes time and lots of searching. I get ideas in my head of what I am in search of and then go from there! Here are a few pieces of advice:
1. Check everyday
2. Use different key word search combinations
3. Always be on the look out even if you aren't needing anything at that moment. When I pass by my local thrift stores, I usually stop to take a peek at what they have – you never know.
4. Don't give up. If you don't find what you are looking for right away it's okay. Sometimes I search Craigslist for months before I come across something that I love, and sometimes I find it the day I begin.
5. I like to visit local flea markets as well. There are so many hidden gems that can be repurposed or given a fresh coat of spray paint, so make sure to check your area for one near you.