7 Grown-Up Back-to-School Items to Add to Your IRL Shopping Cart
We independently select these products—if you buy from one of our links, we may earn a commission. All prices were accurate at the time of publishing.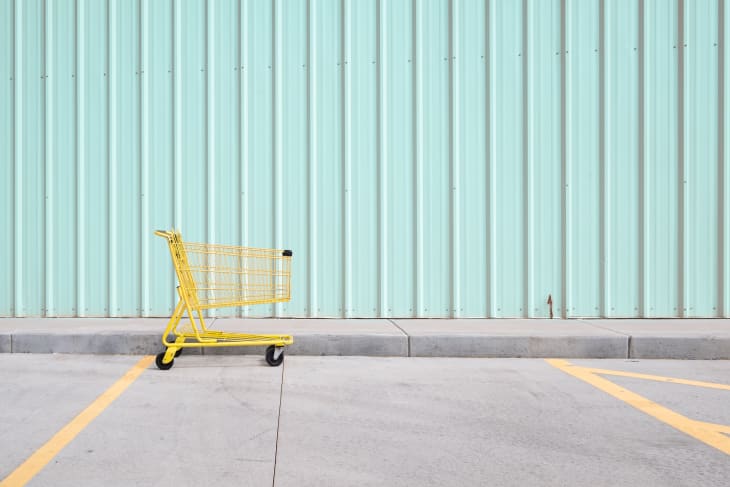 As a kiddo, I was a glutton for summer. Send my way your fireflies, sprinklers, fireworks, and popsicles. Bestow upon me your Midwestern backyards' above-ground pools and hot dog dinners! I am summer and summer is me!
Yet, as the dog days of summer gave way to the mid-August scramble, the looming threat of September cast a shadow over the season. The one tradition that helped me ward off the end-of-summer blues? Back-to-school shopping.
Once midsummer arrived (not to be confused with "Midsommar," an excellent film), the only place I wanted to be was the sprawling school supply section of the local Target. New school years felt like a fresh start for me, and I was eager to reinvent myself one Lisa Frank folder at a time. 
After 12-plus years of this same annual tradition, I now find myself unable to resist the gravitational pull of beaded pencil cases, massive trapper keepers, and brand new bottles of Elmer's Glue. Deep sigh. Adults, it's time to take back back-to-school shopping. Picture it: You budget throughout the summer to spend an afternoon stocking up on supplies that need replacing or upgrading — ones you wouldn't normally tack onto your weekly shopping list. 
After all, back-to-school shopping was just an enchanted Target haul made magical by slapping a Disney princess on otherwise mundane products. Restock where your supply is dwindling. Replace the worn with the new. Begin again. Here are seven essential items to include on your adult back-to-school shopping list.
The end of summer is the perfect time to reassess the state of your basics. I'm talking tees, tanks, undies, socks. Has your size changed? Are all your armpits stained? Do you prefer a different neckline? Make a list and commit to upgrading your staples. Plus, if you have the same issue I do when I walk into a Target and impulsively throw 18 different ribbed tanks into my cart, assigning these staples to your annual school season haul will cut down on thoughtless spending during the rest of the year. 
If you're someone who carries a handbag or backpack with you, or who keeps your glove compartment stocked with items you need in a pinch, this is a good time to replenish that supply. I keep a cosmetic bag on hand that I can easily toss into whichever purse or tote I'm using that day. Replace your travel pouch if you have one! And take this time to bulk up on some to-go essentials, like hair ties (there's nothing like a brand new elastic), hand sanitizer, wet wipes, floss, travel packs of tissues, Tide to Go pens, hand lotion, mints, and lip balm. 
Tupperware Transformation
Did your summer sauces destroy your tupperware? Were your containers or lids lost in the summer potluck shuffle? Now's the time to upgrade. Consider the types of containers that make sense for your household in this current season. Whether you're frequently on the go, meal prepping weekly, or cooking meals in bulk, give yourself the gift of having the exact vessel you need on hand. 
If your collection of writing utensils consists of pens you've "accidentally" taken from the bank or your favorite restaurant, it's time to treat yourself. Are pens boring? Kind of! Which is why selecting a high-quality pack is the perfect activity for your back-to-school shopathon. Toss those chewed up caps into the trash. Release those dried-up inkwells from who-knows-where into the garbage. In the timeless words of Natasha Bedingfield, "Today is where your book begins, the rest is still unwritten."
Mid-Sized Cleaning Supplies
While it's not unusual to restock multipurpose cleaners, wipes, sanitizers, and other cleaning products on my weekly shopping trips, replacing mid-sized cleaning supplies is not something I undertake frequently. I'm not talking about bigger appliances like vacuum cleaners (though I'd never get in the way of anyone investing in a new Dyson!). I'm referencing the unsung heroes of the cleaning routine: toilet bowl brushes, buckets, mops, etc. If your broom has had a rough go of it this past year and a deep clean won't suffice, pick up a new one. Or maybe you've realized that adding an additional Swiffer Sweeper to your cleaning closet would be a value add. Pop one in the cart!
Among the many ongoing lessons we're learning during the pandemic: Don't wait until you're sick to be prepared. Pick up couch syrup, lozenges, anti-diarrheals (trust me, a person with IBS and no filter), a thermometer, COVID-19 home testing kits, cans of soup, electrolyte drinks, and whatever items your household needs on hand to weather the upcoming flu season and whatever fresh hell the universe decides to throw our way next. 
After a while, my water bottles and travel mugs start to get a little beat up. They also have this odd tendency of getting lost in my car. If your bottles and mugs are lost in the Toyota Triangle, pop into the travel mug aisle and select a new vessel to keep your water chilled or your coffee piping hot all day. Travel mugs and bottles have come a long way in the past decade. You deserve to recycle that old bottle you got for free at a baseball game with a bunch of bank logos on it! Level up and hydrate!