5 Things That Are On Sale After Christmas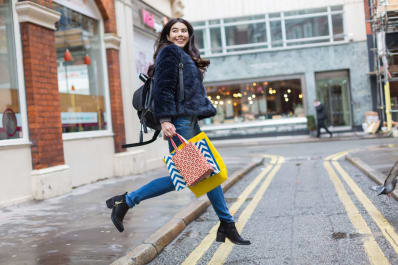 (Image credit: HEX/Stocksy)
If you think you scored big deals with Black Friday and Cyber Monday discounts, just wait—some of the biggest sales are today through the end of the year.
"People feel more apt to buy things on Thanksgiving weekend because there is a fear of missing out on a good deal," says Norman Fong, CEO of BuyVia, a mobile app and website that helps consumers score the best deals at major outlets like Amazon, Target and Walmart. "A lot of the stores play on that and actively push items."
An estimated 164 million people shopped Thanksgiving Day through Cyber Monday hunting for bargains, according to the National Retail Federation. And, while retailers get a lot of attention during Turkey Day weekend, you'll be surprised to know that you'll find the best deals on certain items after December 25.
After all the holiday hullabaloo, savvy shoppers are planning to cash in on deeper discounts: 73 percent of U.S. consumers plan to shop the post-Christmas sales, according to a poll by Branded Research. Consumers are most likely to purchase clothing, electronics, seasonal decor, and household goods, respectively. The poll also found that women are more likely to buy clothing while men gravitate towards electronics. Younger consumers (18- to 24-year-olds) are on the hunt for discounted clothing and electronics, while older consumers (the 55+ crowd) plan to stock up on seasonal decor.
"There are definitely deals to be had," says Fong. Here are a few items you can expect to see marked down after the yuletide season (plus some current sales if you just can't wait).
Televisions
With football season in full swing and the Super Bowl just around the bend, January is an ideal time to buy televisions. "TV sets are cheaper," says Fong. "But the problem is the inventory is built up beforehand. Sometimes the selection available is a little more limited."
Fong also notes that some television models are designated especially for the holidays, and you can find those versions marked down."There are special models only sold during the holidays that won't carry over and weren't available before that retailers want to push," he says.
Home goods
Retailers are looking to clear out inventory from their warehouses to make room for 2019's new merchandise, which is why sales exist throughout the holiday season—sometimes long after Black Friday. "This is more true for the items that are a design for the season," says Fong. Think trendy home decor and furnishings that won't be en vogue come 2019.
"A lot of home-oriented items for sure—furniture, appliances, and what not," says Fong. "I wouldn't be surprised to see Instant Pots and other things that are leftover on sale."
Fitness items
Maybe hold off on asking Santa for that Peloton exercise bike and instead stay abreast of sales. "There is a health and fitness craze and you see that stuff going on sale late December into January," says Fong.
Aside from large exercise equipment, smaller goods like yoga mats, weights, workout clothing and accessories will have slashed prices.
Holiday decor
"All that holiday stuff definitely goes on sale," says Fong of items like seasonal decor, wrapping paper, greeting cards and sweet treats. "It is more of the minority that is so organized that they take advantage of that."
If you are looking to cash in on seasonal items this year, make a checklist now of what you want to purchase so you have a strategic plan when hitting the after-holiday sales. Stock up on gift bags, ornaments and twinkle lights.
Clothing
One of the most-returned gifts after the holidays is clothing, according to Fong. "It's so hard to buy clothing for others," he says. "You get lots of returns and exchanges there, and lots of sales trying to move that merchandise."
You'll see more and more sales pushing cold-weather apparel too because of seasonality. Newer versions of clothing items tend to come out in spring. For instance, Fong notes that at REI, a version of North Face jacket is on sale to make room for next season's similar, but updated jacket. "People can still save money on previous year's stuff," he says.
12/26/18: Updated from a post originally published 12/20/18—TB
Apartment Therapy supports our readers with carefully chosen product recommendations to improve life at home. You support us through our independently chosen links, many of which earn us a commission.